Xmas - How our friends and co-workers in Newnan are celebrating Christmas
Illumination! The pre-Christmas blaze of lights has become tighter and bigger over the last few weeks in Atlanta, Georgia. Still full from the turkey meal, traditionally right after Thanksgiving, the decorating for Christmas begins. "Since end of November Christmas parades are taking place everywhere – they usually start right after the sun sets to be able to enjoy the carriages with glittering decorations. Sweets are thrown down to the kids and even police cars and fire trucks participate in the parades – so much fun!" says Pamela Hiegl. She is originally from Hockenheim in Baden-Württemberg and has lived in the US for about nine years now. As an HR Specialist, she is supporting our HR department at the Newnan location.
Homemade Christmas cookies are a must!
Pamela and her colleagues have access to public parks to get just in the right mood for Christmas. "At the Botanical Garden in Atlanta or at Callaway Gardens in Pine Mountain, you can enjoy thousands of Christmas lights, hop on a Xmas train or simply get enchanted by the colorful glow", says Pamela. This year, she is heading to the Christkindl Market in Atlanta for the first time, which is organized by the German-American cultural foundation. And not only Glühwein and brats are items to enjoy, but also handcrafted art and goods, such as nutcrackers and Christmas pyramids of the German Erzgebirge are for purchase. But don't always buy, do it yourself! Pamela's motto for this year's Christmas cookies. Recipes she received from her Mum and grandmother. "I do miss my Mom's Christmas cookies and decorating the tree together. A real Christmas tree is a must for me even here in the States. Lots of people have plastic trees in their homes. It seems easier and more convenient to be able to reuse the same tree every year, but I like the smell of a real Christmas tree and would not want to miss it", she says.
Christmas party at the bowling alley
Celebrate! Wings, pizza, soft drinks and a couple of fun games of bowling awaited our employees at the bowling alley in Newnan. Especially with the 30th anniversary, our Newnan location had lots to celebrate this year.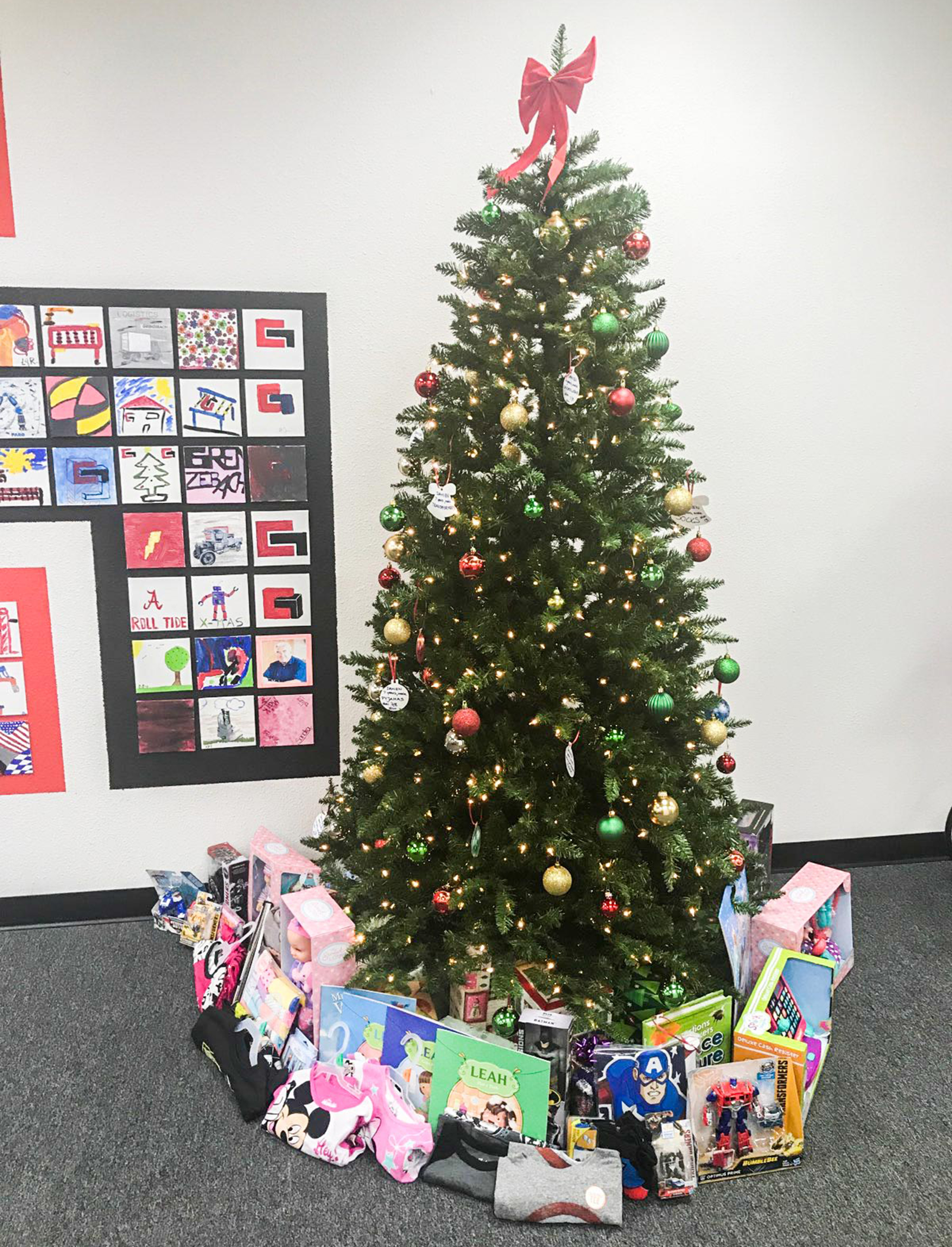 Giving back! It has become a tradition over the last few years at our Newnan location. Every year the Salvation Army picks a couple of not so fortunate kids and sends us their wish lists for Christmas. Paper ornaments on our Christmas tree have the different gifts written on them for employees to pick. "Employees can pick as many ornaments as they want to help fulfill the children's wishes", explains Pamela Hiegl.
Tradeshows 2019!
To be continued! In order to continue the success story of Grenzebach, we already have quite a few big dates on our calendar for next year. April 8th to the 11th, it will be all about Intralogistics at the Promat in Chicago. September 17th to the 19th, we hope to see you at the GlassBuild in Atlanta. And while the tradeshow in Atlanta is happening, our Newnan location will be hosting another Automationfest inviting customers and vendors to the event.
Best wishes from Newnan, Shanghai, Hamlar and Bad Hersfeld
Let's raise our glasses! Grenzebach in Newnan, Jiashan, Hamlar and Bad Hersfeld send their best wishes to all customers and partners around the globe. We wish you a Merry Christmas, relaxing holidays with your family and friends and a great start into the New Year.