Sustainable. Attentive. Responsible.
Out of respect for people and the region
As an automation partner that operates across the globe, Grenzebach bears particular responsibility. We are well aware of this fact and therefore exploit our opportunities in a responsible manner – in harmony with your objectives, society, and available resources. We keep the individuals involved in mind at all times, and our working environments serve the people, not the other way around.
We want to offer our employees a place where they feel comfortable, safe, and valued. As a result, we prioritize occupational health and safety measures that make a lasting impact. As a family-owned company, we are also deeply rooted in the regions our sites are located. We play an active role in the local communities and have done so for decades.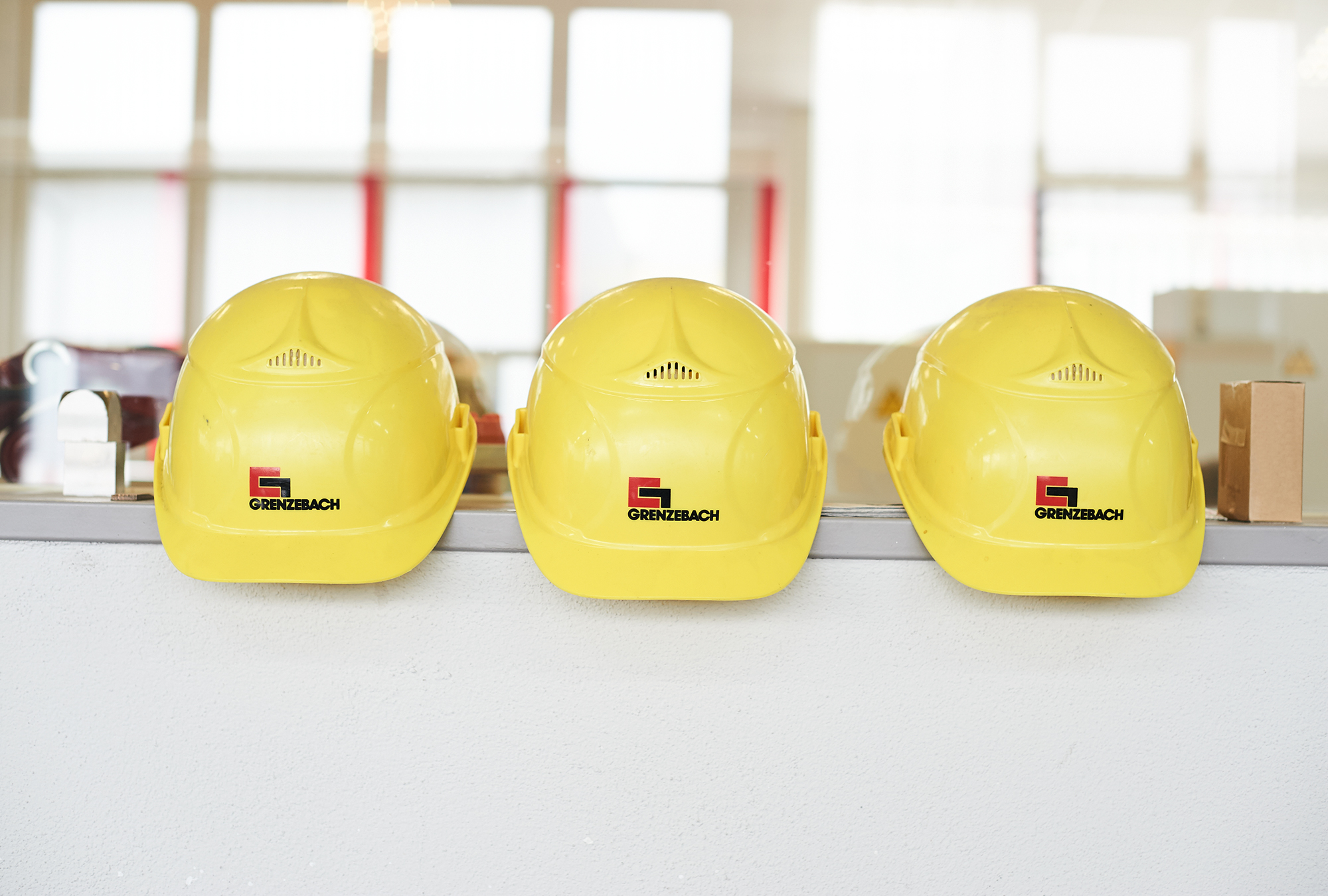 Occupational health and safety considered right from the start
A sustainable workplace
Working at Grenzebach means cultivating a reliable, respectful, and collaborative relationship. Our employees are the heart and engine of our company. It is their in-depth expertise and unwavering focus on our products and customers that allow us to develop high-quality solutions and high-performance technologies that add genuine value. Because we care about their well-being, we promote holistic health management and implement effective occupational health and safety measures.
We are our employees' partner. As such, we strive to offer workplaces that are as safe and healthy as possible – for our visitors as well as our employees. A variety of programs designed to promote active preventive health care are a matter of course for us.
Humans and machines – a sustainable unit
Robots can take over dangerous, heavy, and ergonomically demanding tasks
Driverless transport systems make workplaces more ergonomic – they often save employees from having to take tedious trips and, for example, handle the transport of heavy goods
We constantly develop work, fire and health protection. Since 2019, the control elements of our automated guided vehicles are galvanically isolated from the battery voltage and person-safe due to a Lidar laser scanner 360°
Interacting with innovative topics develops skills and creates new fields of employment
We assume responsibility for our employees
Occupational safety and health from A to Z
Officers for even greater safety
Occupational safety management officers have their eye on all on-site processes
Occupational safety specialists provide important tips for the day-to-day implementation of measures on-site
Fire safety officers do their utmost for the preventive protection of people and the environment
Laser safety officers advise employees on the use of laser equipment in accordance with applicable regulations
Ergonomics and medical care
Our ergonomic workstations offer:
Height-adjustable desks
Two monitors and headsets at offices
Workstation crane systems in production areas
Specially coated floors for a back-friendly working
Our company physician and paramedic also provide medical care at Grenzebach:
Occupational health-related exams
Occupational health checkups
Grenzebach first-aid kit
Additional preventive health measures
Protective vaccinations
Analysis of blood test results
Blood pressure measurements
Campaigns such as mobile back training, foot measurement, thyroid exams
A series of lectures on health
Group running training
Testing and hygiene concepts during the pandemic
Our occupational health and safety management system
At Grenzebach, we are committed to safe machines manufactured at safe workplaces. At all Grenzebach Group sites, our employees comply with the safety rules in accordance with the statutory provisions applicable to workplaces and observe the recommendations of the employers' liability insurance associations. Our goal is to prevent workplace accidents of all kinds and to provide safe and ergonomic workstations for our own and external employees. At every Grenzebach site, the company's internal physician takes care of all of our employees' health concerns.
Social initiatives with an impact
Partner to employees, society, and the region
Grenzebach is always thinking one step ahead. We believe business success is closely linked to social initiatives. A willingness to help others has a long tradition at the Grenzebach Group. In this context, we feel particularly committed to the regions around our sites. We listen carefully and don't just talk the talk, but also walk the walk. Vocational education and training are a matter near and dear to our hearts. We are always happy to get involved in charitable projects. When doing so, our focus is always on the needs of the people.
"When I think about the people at Grenzebach, I immediately think of the word diversity. Diversity – in terms of personal growth and development opportunities for every individual at the Grenzebach Group. Diversity – when it comes to our corporate culture, with numerous events, activities, and programs. Diversity – on a personal level. Our Grenzebach family is a colorful mix of interesting and inspiring individuals. This diversity creates new ideas. Ideas that inspire, advance, and transform the world of tomorrow."
We're happy to be here for you
Your contact person: Frank Wenger
Let us shape sustainability together. We will be happy to answer your questions about our economic, environmental and social responsibility.