Our proven process technology. Your high-quality cristobalite.
Cristobalite plants
Tailor-made process technology is needed to produce high-quality cristobalite. Since raw sand qualities differ, individual fine-tuning is required – both in the selection of the appropriate additive addition and in the thermal treatment. To achieve top quality, we at Grenzebach always think ahead on your behalf and go into detail when designing your production plant. To ensure that you benefit from high product qualities, we use our many years of process experience to provide targeted recrystallization of your quartz sand.
From planning and commissioning to maintenance work on existing plants, we are at your side as a full-service partner. Our expertise is characterized by our 120 years of experience in mechanical and thermal process engineering, thanks to Babcock BSH.
What is cristobalite?
The mineral cristobalite occurs very rarely in nature. For this reason, cristobalite is synthetically produced for industrial purposes from pure quartz sand at high temperatures. As a high-temperature modification of silicon dioxide (SiO2), cristobalite belongs to the quartz group. The mineral is characterized by its high abrasion resistance and strong white pigmentation.
Grenzebach: Full-Service Supplier
WeService
From Germany to the world – Grenzebach has been planning, supplying and installing cristobalite plants for decades. Our holistic view of your project is what sets us apart as a partner. That's why we analyze your raw sand qualities at our technical center right at the start of the project. Your quality requirements and wishes are reflected in the design of your cristobalite plant. A high whiteness index and a low yellowness index are decisive factors for us. We pay attention to the longevity and energy efficiency of our plants and solutions for our customers. You will receive a plant concept that is individually tailored to your needs – including full-service support throughout your cristobalite plant's entire product life cycle.
The advantage for you: You benefit from a supplier that provides you with a complete system, tailored to your quality requirements and throughput rates, and that always thinks one step ahead. Around the clock. Around the world.
Our services
Analyses and feasibility studies
Plant engineering and customized dimensioning
Supply of all necessary plant components, from hardware to software
Worldwide installation and commissioning by Grenzebach experts on site
Regular training and education for employees
After-sales support throughout the entire product life cycle
Calcination of quartz to cristobalite
The manufacturing process
For the production of cristobalite, quartz is first washed, classified and screened. The heart of the cristobalite plant then comprises a sophisticated system of various thermal apparatuses. In the first step, additives are mixed with the quartz sand. After upstream drying and preheating of the quartz, the essential recrystallization (calcination) of the quartz into cristobalite takes place. In downstream cooling processes, the cristobalite's temperature is brought down to a manageable level.
Our individual process technologies for a cristobalite plant
Raw material silo
The raw material is washed, classified and screened.
Conveyor
The untreated silica sand is conveyed to the feeding device in front of the drum dryer.
Metering unit
The silica sand is mixed with chemical additives. This step affects the quality of the cristobalite produced.
Drum dryer
The preconditioned silica sand is completely dried and preheated.
Rotary kiln
The calcination of quartz to cristobalite in the high-temperature zone of the rotary kiln represents a decisive process step. Here, targeted temperature control is required to ensure accurate recrystallization as cristobalite.
Grenzebach's rotary kiln is characterized by a simple, robust design, high operational reliability and high throughput rates.
Fluidized bed cooler
The temperature of the cristobalite produced is brought down to a manageable level in the downstream two-stage cooling process. In the fluidized bed cooler, the cristobalite is air-cooled in a first step.
Shaft heat exchanger
In the shaft heat exchanger, a cooler that works indirectly with water, the cristobalite is then finally brought to a manageable final temperature.
Black spot detection
An inline measuring facility inspects the finished cristobalite for black spots. To achieve consistent product quality and avoid black spots during the production process, an intelligent control system guides the manufacturing process.
Grenzebach enables the subsequent installation of the inline measuring option and intelligent process control.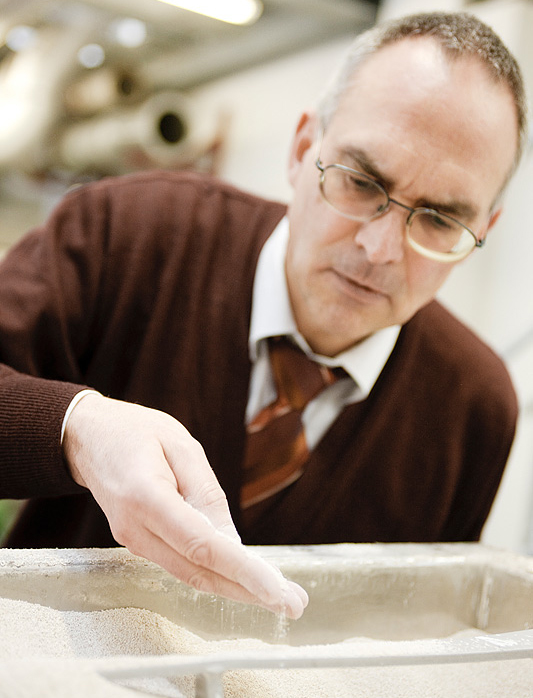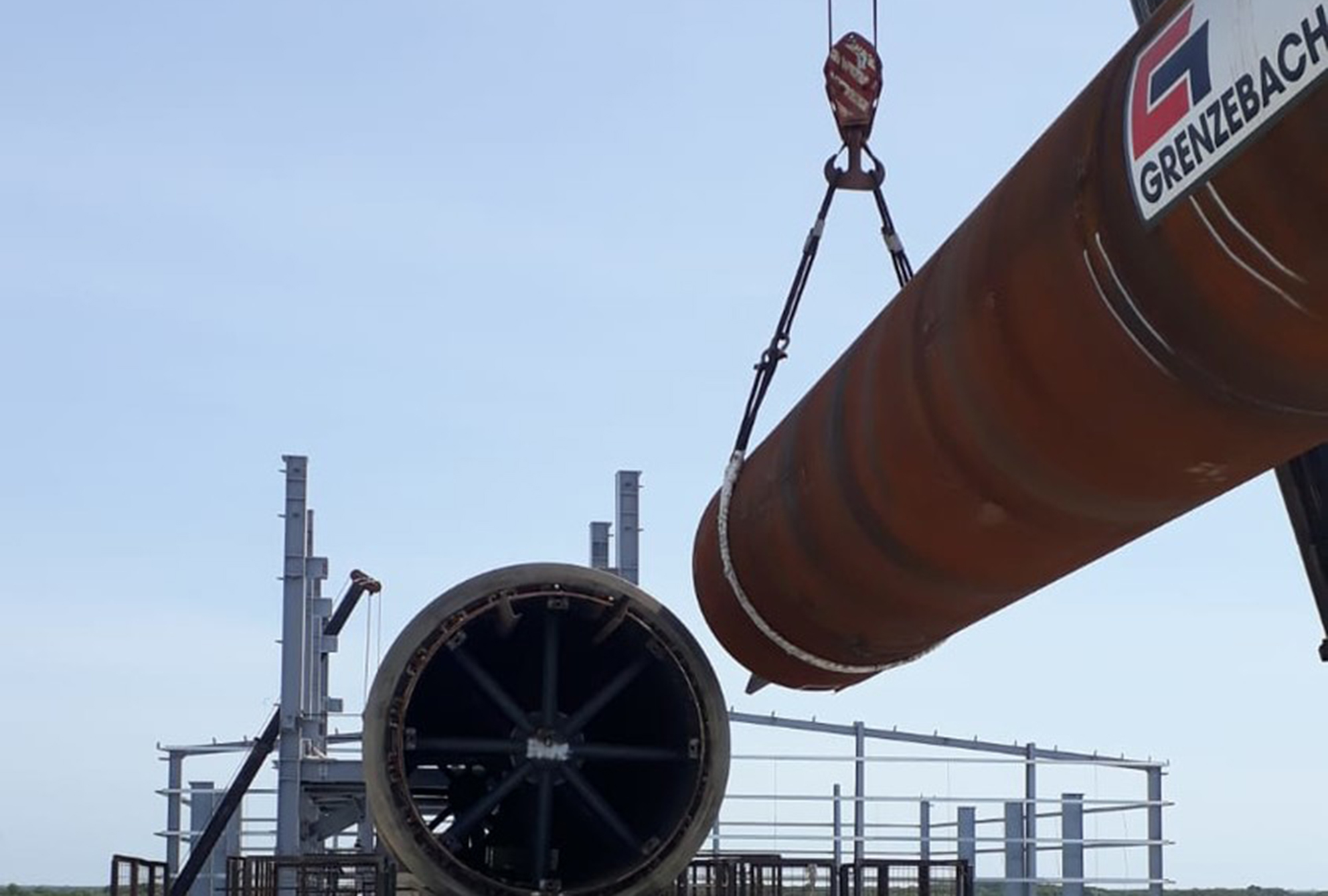 Our passion for cristobalite: High efficiency in Vietnam
Case Study
Our Vietnamese customer no longer wanted to pay high prices for the valuable raw material cristobalite it needs for its product manufacturing. The company therefore decided to produce its own cristobalite.
In 22 months, Grenzebach's process technology experts from Bad Hersfeld installed an operational plant to produce 80,000 metric tons of cristobalite a year at the customer's site in Vietnam.
Applications of cristobalite
White. Rugged. Versatile.
Cristobalite's exceptionally high whiteness, high chemical resistance and low density make it an ideal filler and pigment for various specialty products.
Depending on the particle size, cristobalite can be found in various products. As a fine or ultra-fine powder, it is used in colorants, while as a coarse powder or grain, it is found in wall plaster. Due to its color saturation and luminosity, cristobalite is particularly popular as an additive in engineered stone and dental ceramics.
Engineered Stone: Luminous. Durable. Scratch-resistant.
Engineered stone is a composite material made of cristobalite and resin. Pressed into slabs or larger blocks, it is often used to make kitchen countertops, flooring and interior walls. The granite imitation has high resistance to stains and scratches, as well as radiant luminosity and a wide color spectrum.
Dental ceramics: Precise. Fireproof. Stable.
The quality of the investment material and the optimized interplay of cold and heat are decisive for accurately fitting dental ceramics. Since the beginning of the 20th century, cristobalite has been used in dental technology as a refractory investment material in which dental castings are modeled. Cristobalite filler is characterized by its precision, refractoriness and stability.
Your contact person: Matthias Brandau
Are you planning a new cristobalite plant or would you like to learn more about our process technology? Call or write us with your requirements. We look forward to hearing from you.