Advantage in throughput and outlet temperature
For optimum cooling performance and high throughput, Grenzebach's experts tailor the design of your sectional cooler to the context of your plant as a whole. Based on our decades of experience and our comprehensive knowledge of the reaction behavior of bulk solids, we continuously develop our sectional coolers. Today, we offer our customers optimum cooling performance based on the individual conditions of their processes. Grenzebach sectional coolers stand out from other systems of the same size due to their higher cooling capacity.
As a full-service partner, Grenzebach accompanies you worldwide from project planning to customized system design, integration of the sectional cooler into your operating environment, installation and commissioning.
"Precise dimensioning of the sectional coolers for individual requirements! Our customers appreciate the plant's optimum cooling capacities and high availability. Since no additional equipment is required for dedusting, the investment costs remain low."
The advantages of the sectional cooler at a glance
GEARED TO YOUR SUCCESS
No filter systems or dusting systems needed
Thanks to indirect water cooling, there are no product losses due to entrained dust. When you cool products with the Grenzebach sectional cooler, you can dispense with filter systems and dust removal equipment.
Optimum cooling capacity, high throughput
The geometry of the cooler results in ideal cooling capacities and high throughputs even with compact dimensions. Grenzebach's sectional coolers are superior to other systems with the same dimensions according to these performance parameters.
The best way of cooling reactive products
To cool reactive products such as petroleum coke or activated carbon, the cooling chamber can be inerted.
Robust and highly available
The sectional cooler can be created with compact dimensions and its design is very robust. Bulk materials that are mixed with coarser product particles or agglomerates can also be cooled without any problems. The cooler design prevents blockages on the product side and thus ensures high plant availability.
More than 300
sectional coolers supplied to cool a wide variety of products means a wealth of project experience. Combining this experience with our engineering know-how, our experts will work out the best solution
For a wide range of products
Applications
The sectional cooler processes very fine, free-flowing product particles, coarser particles and even materials interspersed with agglomerates. The sectional cooler is particularly appropriate for products with high inlet temperatures, such as zinc blende roasting products.
Reactive products that must be processed in an inert atmosphere, such as petroleum coke, can also be optimally cooled.
Grenzebach's experts also develop solutions for products whose rheological properties change during cooling, such as products that lose their free-flowing properties in the cooling process above a certain temperature range and develop a slower, more viscous flow behavior.
The sectional cooler processes the following substances, among others:
Chemical industry: sodium tripolyphosphate, phosphorus salt, iron oxide, titanium oxide
Products such as soda ash, kaolin, zeolites, activated carbon, calcium carbonate, calcium chloride, sodium silicate
Stone/earth industry; kaolin, magnesite dust, fireclay, slag, ash, quartz sand
Coal/ores: Fine ore, manganese ore, converter dust, coke, activated carbon, ash, graphite
Zinc blende roasting products, pyrite burn-off
Metal oxides: titanium dioxide, iron oxide, molybdenum oxide
Aluminum hydroxide, aluminum fluoride, aluminum oxide
Plastics
Fertilizer
Special fixtures: Chain internals for fine bulk materials
To ensure the transport and mixing of fine bulk materials, various installations can be added to the product chamber. For example, chain installations can be used to optimize the cooling capacity for critical products.
The sectional cooler's process parameters at a glance:
Cooling surface up to 1,000 m²

Product feed temperature up to 1,400°C

Product cooling up to 50°C

Cooling capacity up to 25,000 kW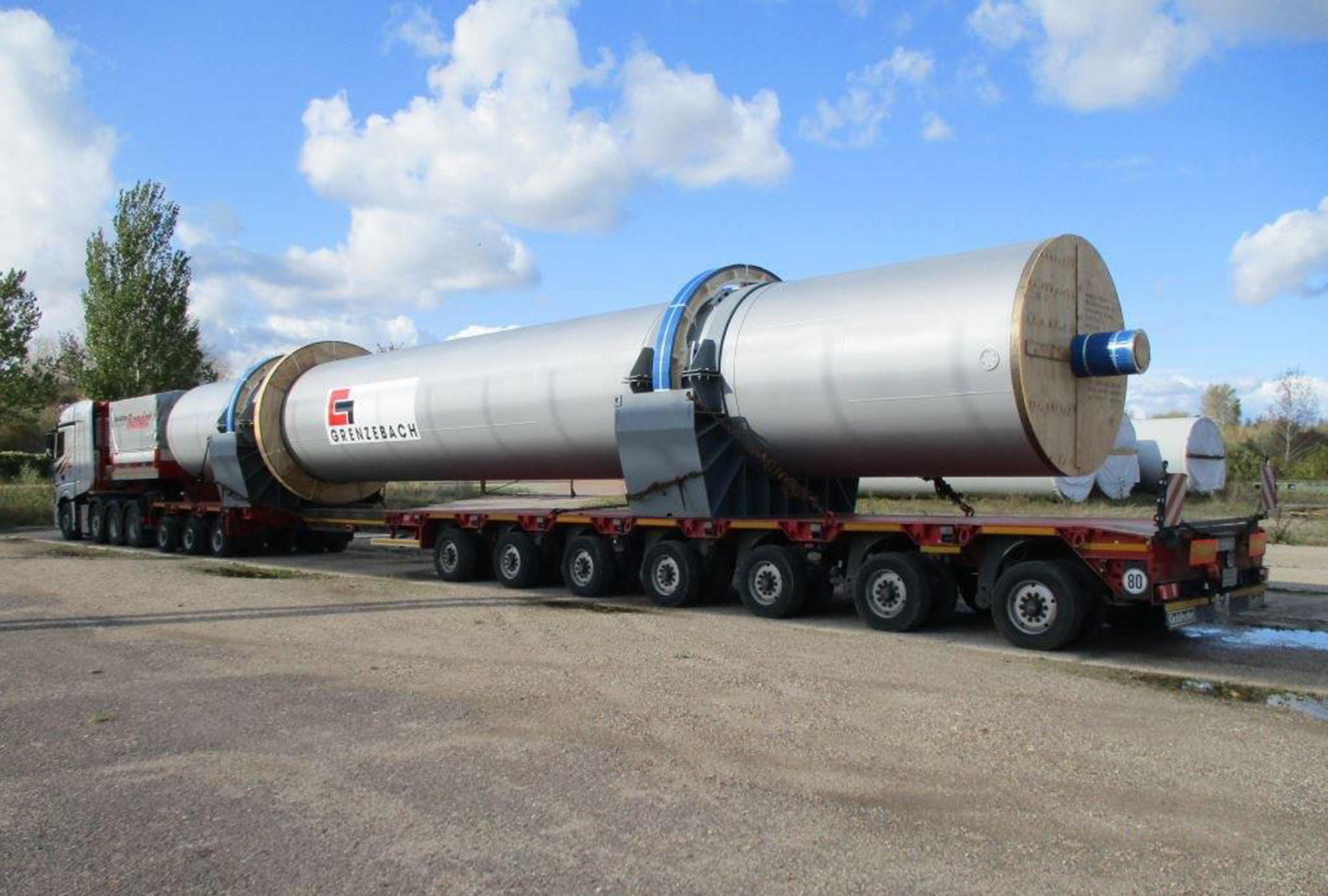 Sectional cooler from Grenzebach for cooling caustic magnesite
Case-Study
Magnezit Group, headquartered in Russia, once again opts for process technology from Grenzebach. A second sectional cooler is to start operation at the production plant in Satka, located on the western slope of the Southern Ural Mountains. It will be used there for cooling caustic magnesite. The powder is cooled down from about 800°C to some 100°C.
Further process solutions
Your contact person: Matthias Brandau
Do you have questions about the sectional cooler? Would you like to discuss a special use case? Contact us – we will be happy to advise you!