Smooth process development in friction stir welding
The process
For us, process development for each customer application and the provision of adapted friction tools are part of our holistic approach to friction stir welding.
The welding system, process parameters and welding tool are always optimally matched to each other: This results in the best possible joint quality. We work closely with our customers to develop the joining concept.
As early as the component design phase, we provide support in designing the assembly to match the friction stir welding process.
Test, sample and prototype welding as well as contract manufacturing orders are possible on Grenzebach's in-house FSW equipment.
Friction stir welding – a green technology
Protects employees
Dust, gases, fumes, radiation – friction stir welding doesn't produce any of these. This ensures a healthy workplace. In addition, the technology is quieter than conventional welding processes, and friction stir welding is CO2-free.
Conserves resources
Auxiliary materials such as shielding gas, powder or welding wire are not required. The purchase and storage of operating materials are nearly eliminated. In addition, energy consumption is significantly lower than with classic welding processes.
Going green
Media-tight battery trays or heat exchangers – our technology is used to create important components for electric vehicles. Mobility with green power – an important contribution to the energy transformation and climate protection in practice.
Tool technology for high-quality friction
To ensure successful FSW, tool technology is as important as system technology.
It is very important to us to provide you with the right tools: our wear-resistant and robust FSW tools are developed in-house by Grenzebach experts and customized for your requirements.
The holistic Grenzebach solution leaves nothing to chance. There are two options for FSW friction tools: one-piece (conventional) and multi-part tools (DynaSTIR). Our portfolio contains both!
One-piece rotating welding tool with fixed shoulder
Conventional friction stir welding technology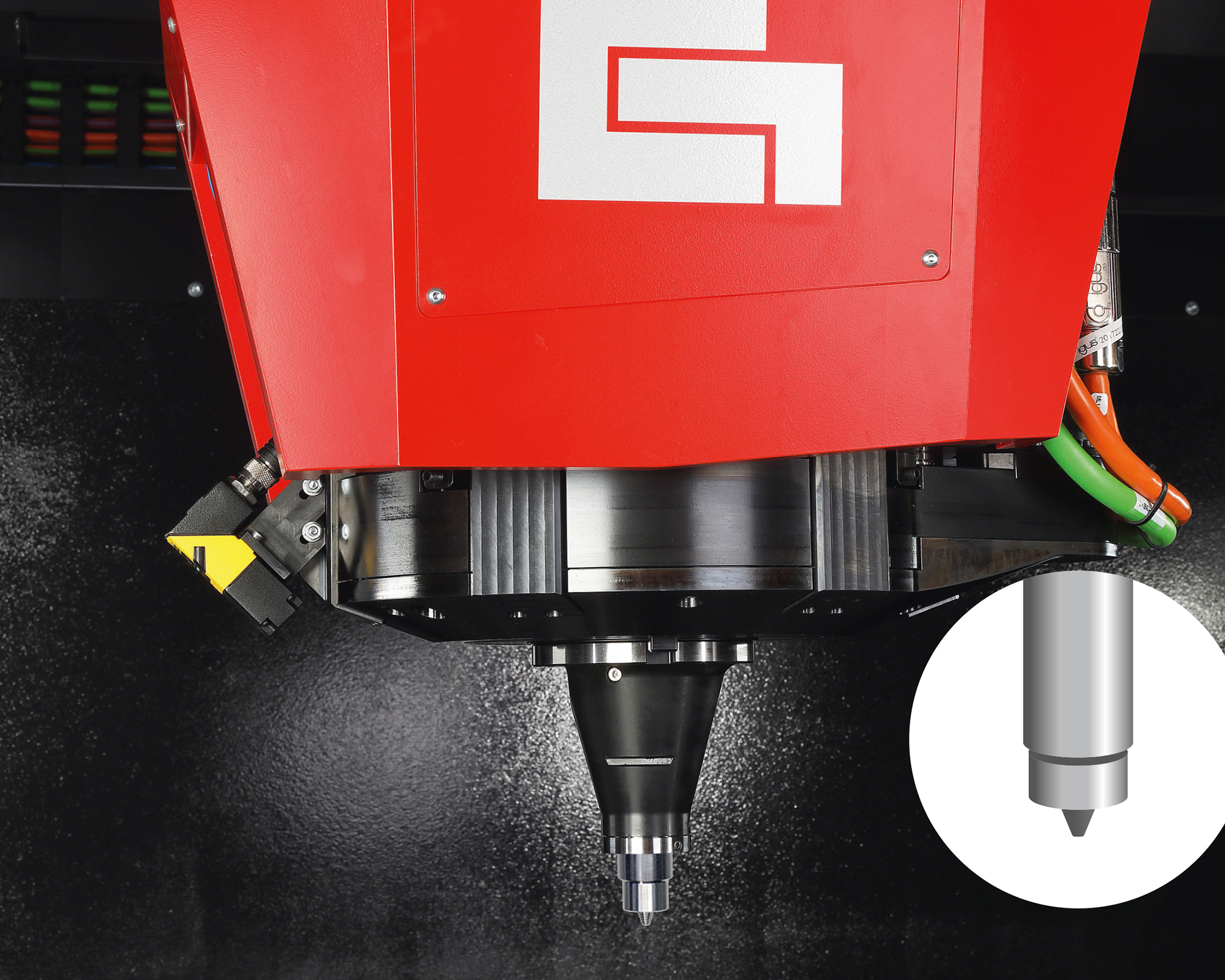 Two-piece tool with rotating friction pin and non-rotating shoulder
DynaSTIR friction stir welding technology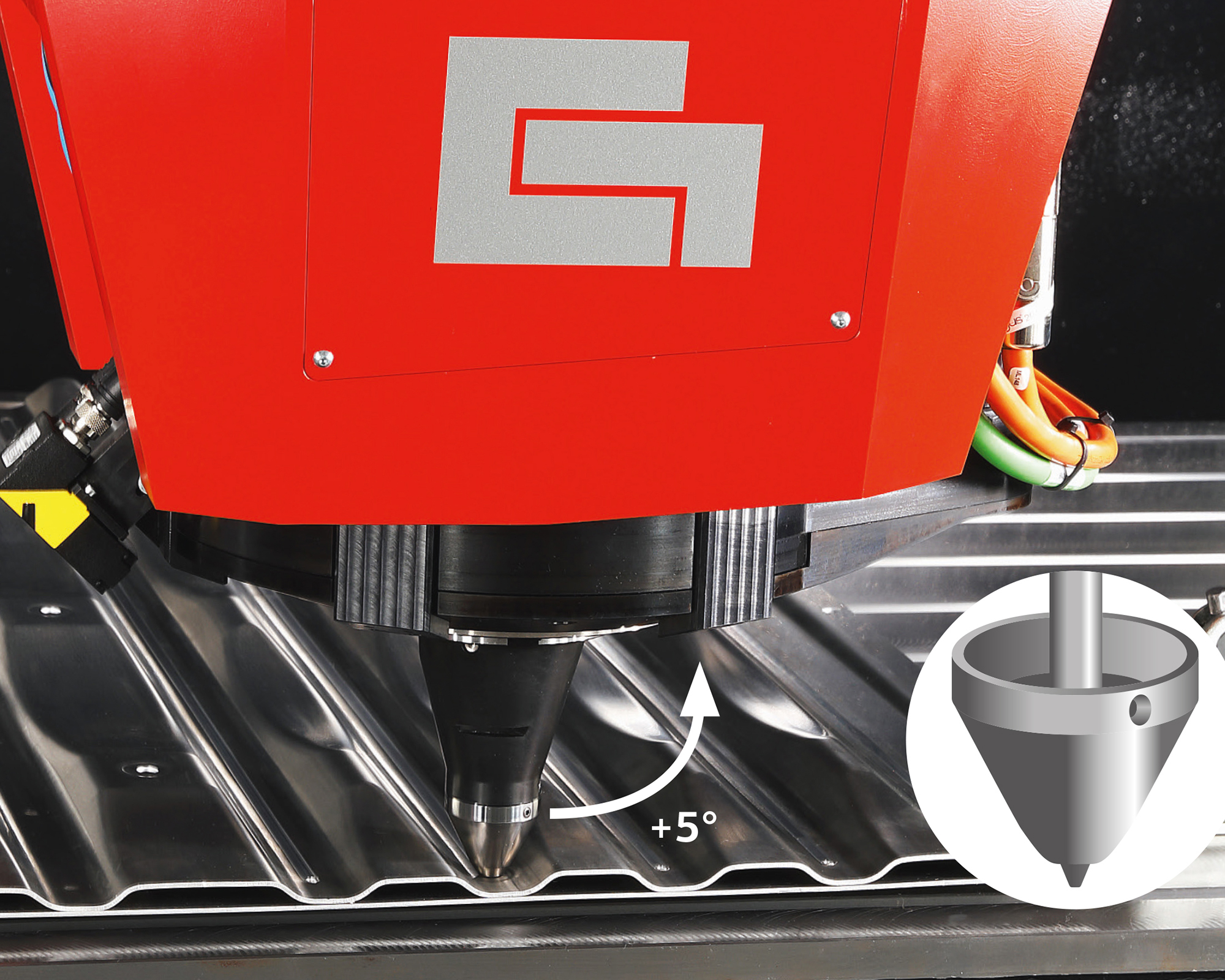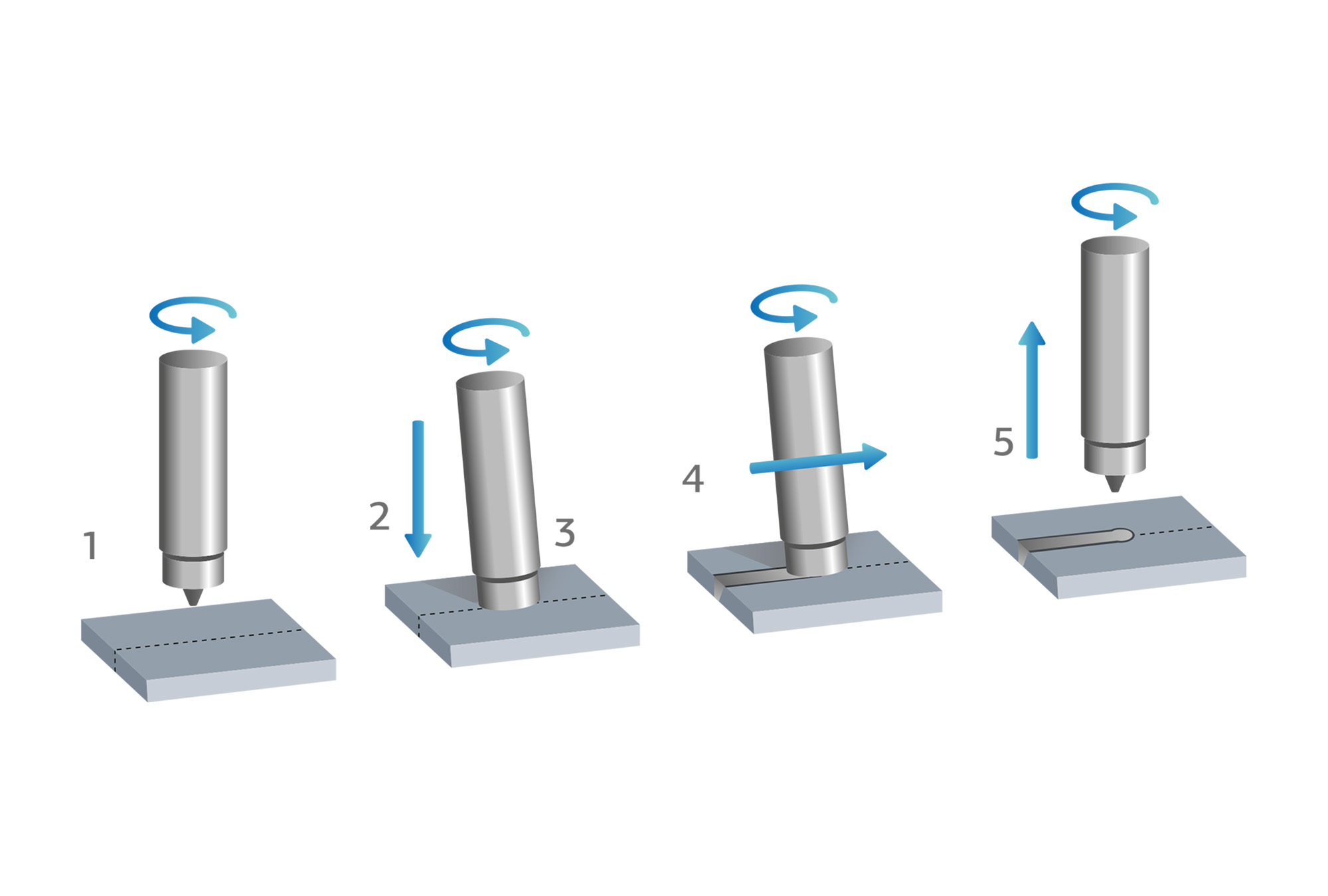 In brief: conventional tool technology for friction stir welding
The process at a glance: the rotating wear-resistant welding tool (1) dips into the seam (2. immersion process) and generates frictional heat. The material becomes plastically deformable and is stirred by the forward movement of the tool along the seam (3. feed). The tool is removed from the seam. The result is a firm, media- and pressure-tight joint between the workpieces (4. removal).
One-piece rotating welding tool with fixed shoulder
Ideal for high welding speeds and depths
Force-controlled process with high-precision sensor technology in the welding head
Integrated 0 – 5° swivel axis
DynaSTIR – dynamic tool technology for friction stir welding
We asked ourselves how a good process could be further improved. With DynaSTIR tool technology, we found an answer. The special feature: The welding tool has a two-part design and the tool shoulder slides over the weld seam without rotation. The results of numerous installations speak for themselves.
The two-part friction tool with rotating friction pin and non-rotating shoulder provides many advantages: from significantly reduced process forces (50%) to high path dynamics and low heat input. The welding depth is variably adjustable and the shoulder geometry can be adapted to the joint geometry.
DynaSTIR tools for friction stir welding processes also allow extremely delicate, gentle work. That's because the tool shoulder glides over the weld seam without rotating. This is possible because of a force-controlled process with high-precision sensor technology in the welding head and an integrated 0 – 5° swivel axis.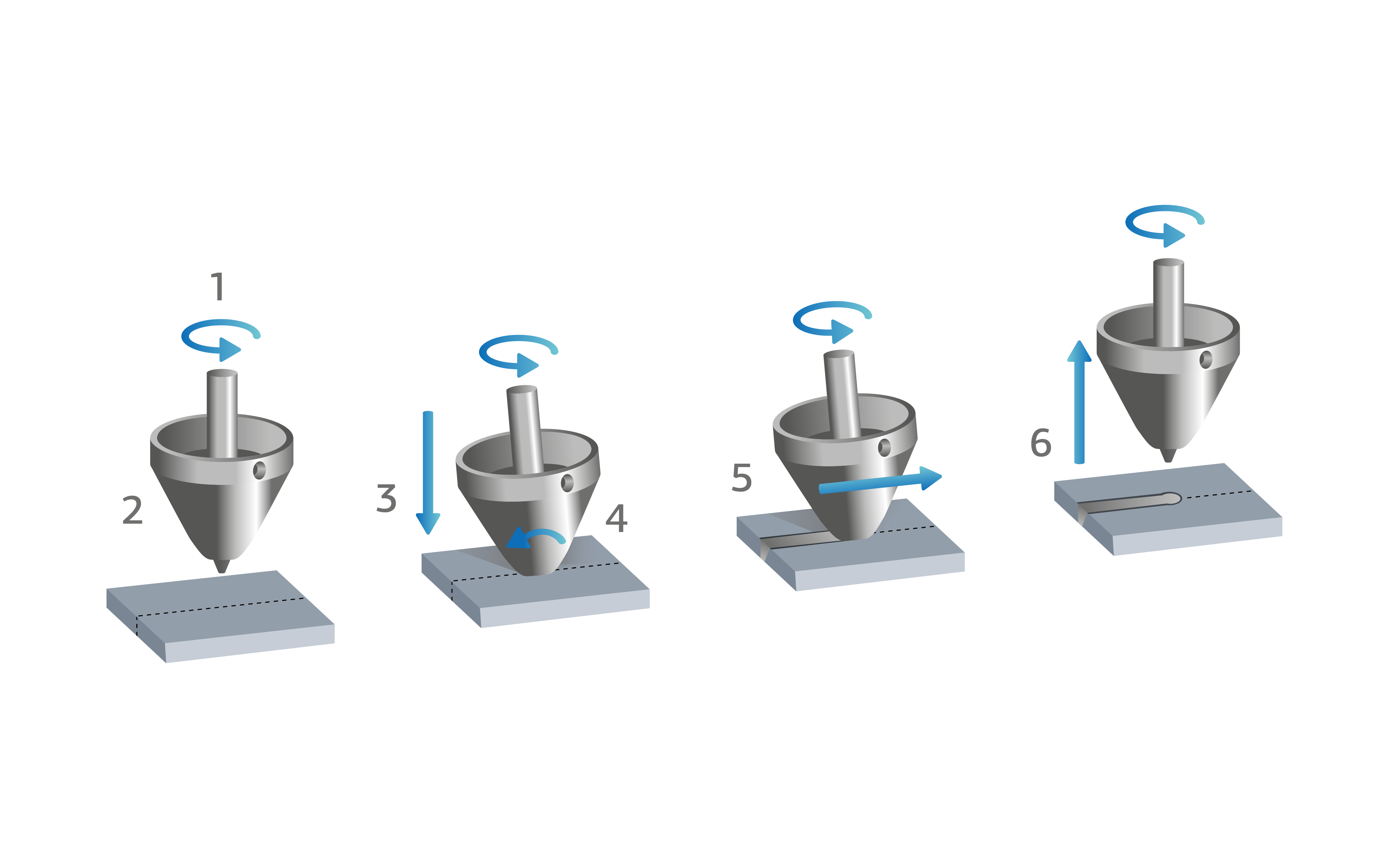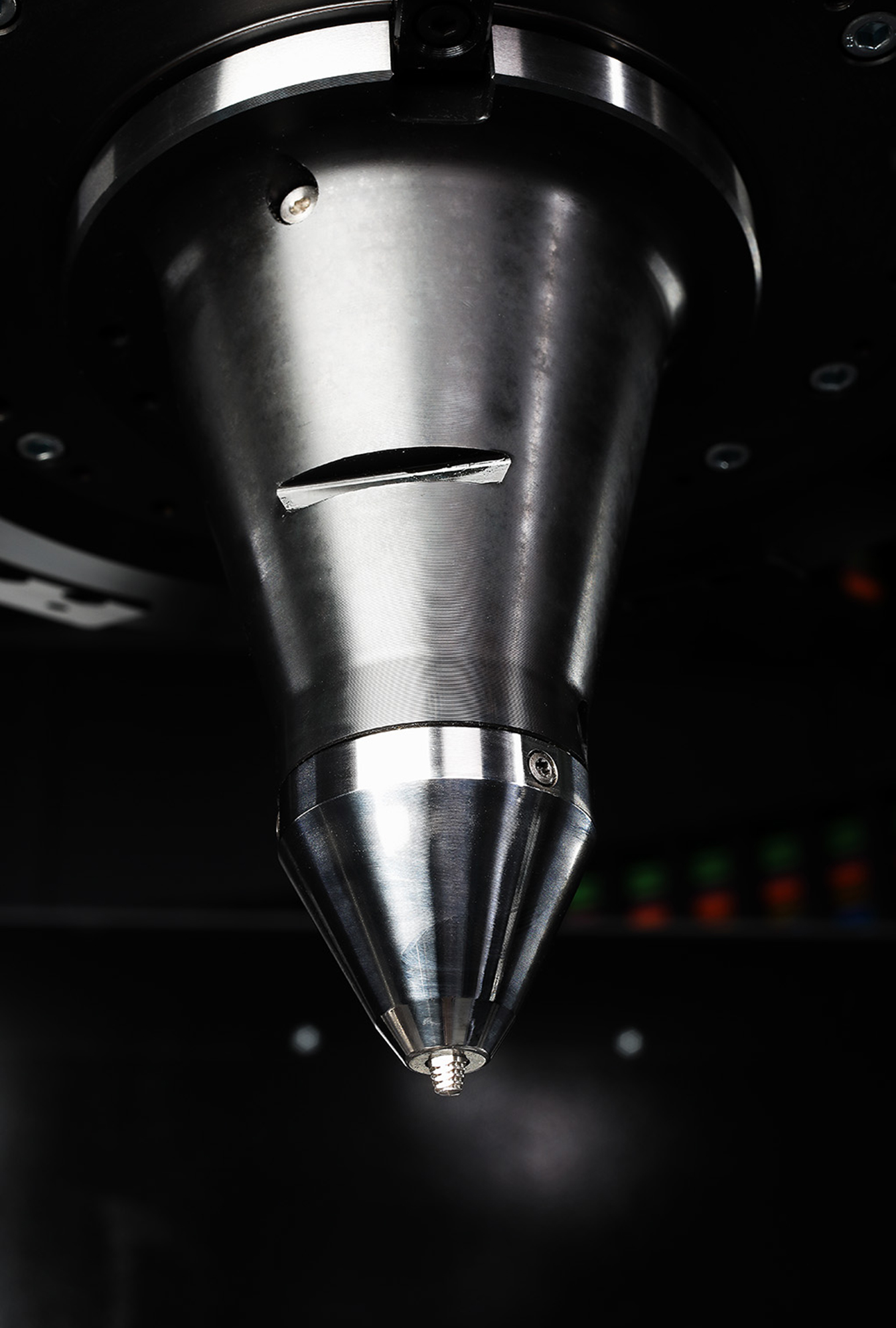 "Our ultimate technological goal is to ensure that our customers always achieve the best possible weld seam and surface qualities. For this purpose, either universal, widely tested standard tools for generalized applications can be used or individual adaptations to special customer requirements can be made. The friction tools with stationary shoulders further developed by Grenzebach offer an especially wide range of possibilities for tailoring and optimizing specific applications."
Teamwork at its best
Working together for the optimal FSW process
Grenzebach has extensive experience with the friction stir welding process and its advantages in a wide variety of projects in numerous industries. We make this knowledge available to our customers. Together with the product developers and process experts in your team, Grenzebach's specialists are continuously developing friction stir welding technology. We accompany you on your journey to a tailor-made FSW process from the beginning all the way to the finish line.
Our services range from component design to application consulting and feasibility studies. Test and trial welds are naturally part of our program. It is particularly important to us to support you in defining and working out the optimum processes. Whether you are aiming for a mini-series or industrial-scale production, we are also at your side during the ongoing production!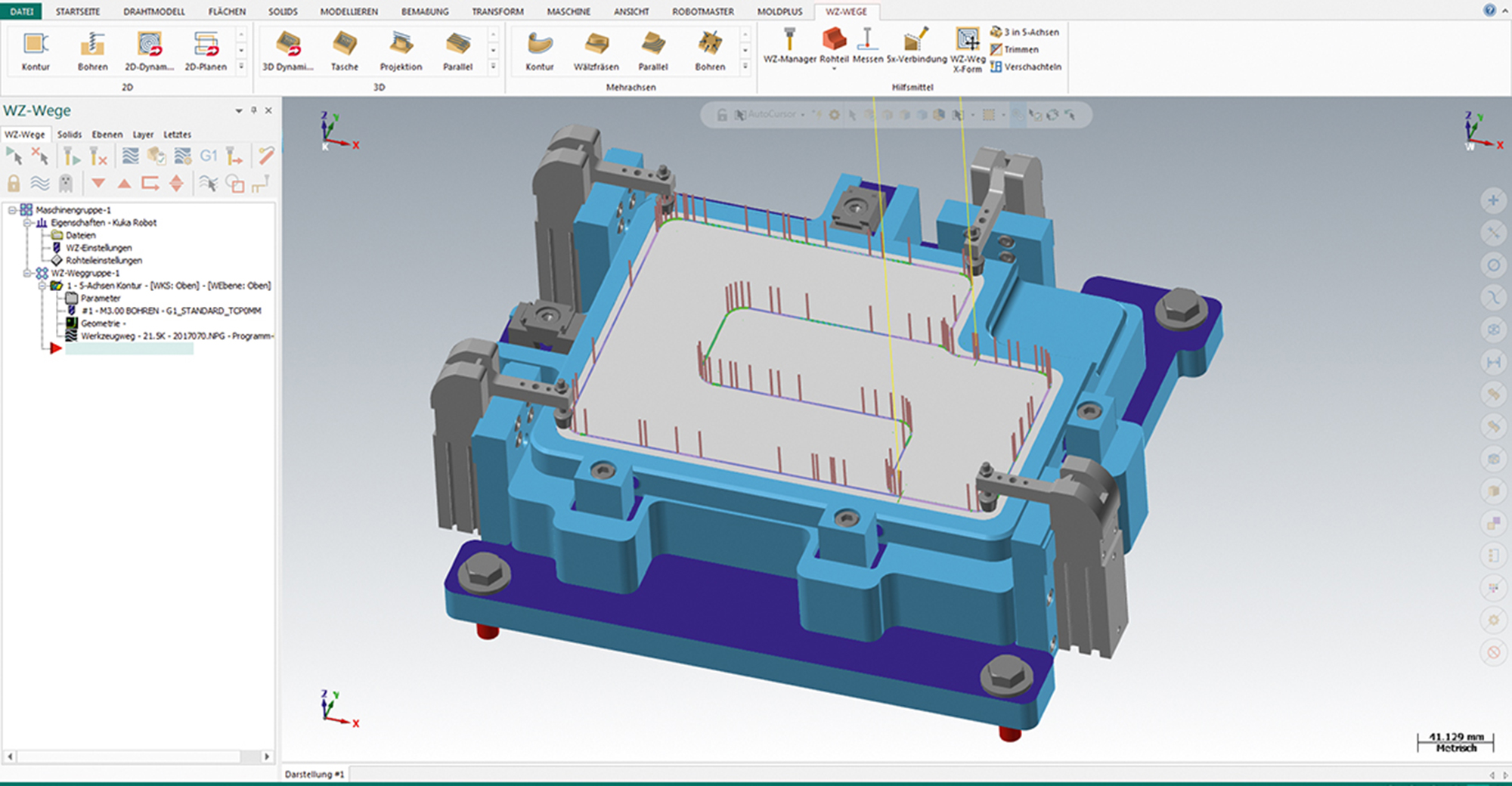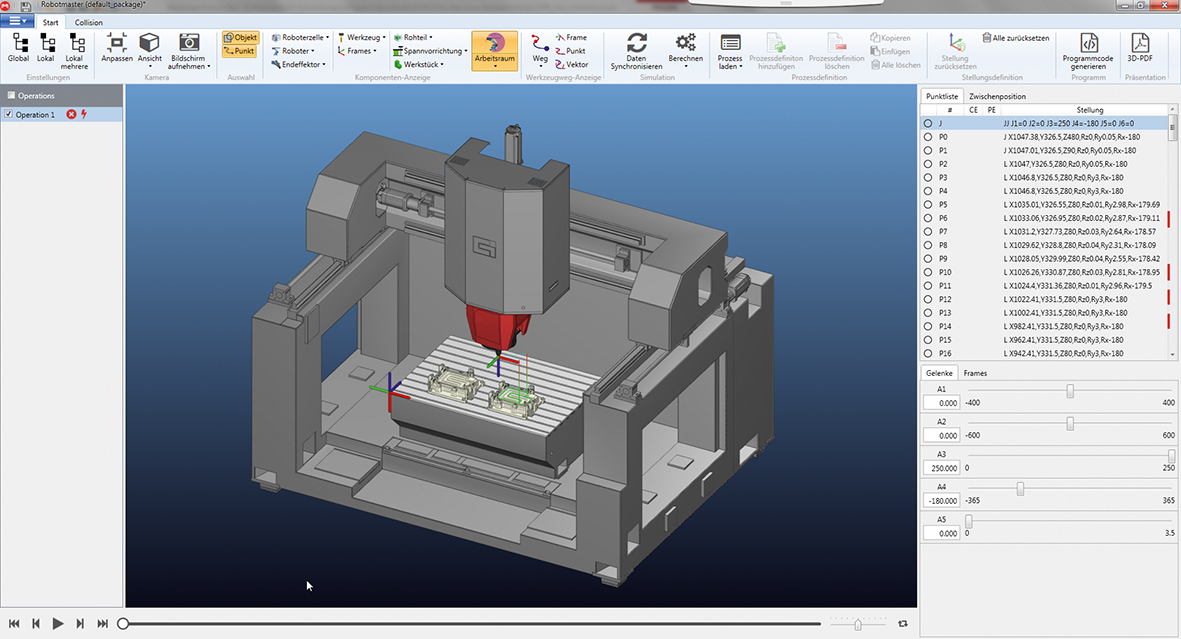 From 3D model to finished welding program in just a few clicks
Professional CAD/CAM
The programming software specially developed for friction stir welding processes makes it easier for users to create welding programs. In addition to the weld path and the FSW process parameters, control over clamping devices can also be programmed in the CAD/CAM environment. Programming is carried out offline on a separate PC so it doesn't slow down the system. The finished welding program can then easily be installed onto the system via a USB or network connection.
Import of 3D models
Geometry selection and path definition in the 3D model
Simple modification options for the path geometry
Definition of FSW process parameters and changes for individual path points and segments
Insertion of action points in the weld path
Collision detection of tools and parts
Reachability check
Possibility of importing different reaming tool geometries
Creation and management of a tool database
Documentation function and traceability of parameter or path changes, for example
Further solutions
Friction stir welding
Contact
Your contact person: Sahin Sünger
Do you have questions about friction stir welding? Would you like to know whether a new idea can be implemented with FSW? Or do you need support in selecting a system? Please contact us. We'll be happy to advise you!