"We see the world through glass": Grenzebach with tangible innovations at glasstec virtual
Offer further expanded as a companion along the entire glass line - Clarify individual questions in face-to-face web meetings
"I am very pleased that Messe Dusseldorf is making it possible to present our key topics and innovations in digital formats to interested parties on all continents. We are very excited about glasstec virtual", says Egbert Wenninger, Head of Business Unit Glass at Grenzebach. glasstec virtual from October 20 to 22, 2020 is an international event for the industry in a new format where Grenzebach and CNUD EFCO GFT will be appearing together. The two partners, who have been working together on projects for many decades, now cover a large part of the hot and cold sections of flat glass lines as an integrated global player.
A common focus is on energy efficiency. A highly efficient waste heat recovery system (WHR) is already being presented to the industry at glasstec virtual. Other key topics at the virtual trade fair event include digital glass production, advances in coating technology, the new generation of conveyor technology and a collaboration app that makes service support for glass production technology even more powerful worldwide. Numerous tangible innovations to advance the glass industry - all under the motto: "We see the world through glass".
With digitalization and coating technology in the Conference Area
The experts from Grenzebach will be present at glasstec virtual with presentations on coating technology and digitalization in the Conference Area. There will also be webinars on the integrated work of Grenzebach and CNUD EFCO GFT and on the new Collaboration App. "We are happy to use the various formats that Messe Dusseldorf makes possible for glasstec virtual. In doing so, we are making a targeted selection for our partners because we are also aware that a lot of information is currently flowing to everyone in the glass industry in digital rooms", Markus Gruber, Vice President Sales Business Unit Glass, notes.
In the glasstec virtual "Conference Area" Grenzebach is represented with two topics:
"Coating Technology: Increases the value of the glass " - Dr. Jens Ellrich on October 22 from 10 to 10.30 am
"Digitalization of Glass Production - Added value for all users" – Peter Seidl & Maximilian Ocker on October 22 from 12 to 12.30 pm
Individual sessions on individual concerns
During the glasstec virtual as well as afterwards, Grenzebach experts offer personal face-to-face web meetings. "It is important for us to be able to conduct concentrated one-on-one conversations with our partners and customers during the web sessions - just as both sides know and appreciate it from targeted trade fair appointments," says Markus Gruber. Depending on the customer's wishes, the focus of the face-to-face web meetings can be on individual innovation topics, and Grenzebach's experts will naturally address specific questions and concerns of the customers. Gruber: "We look forward to direct exchange with our partners and customers - and to the impulses from these discussions. It is very important to us to be available as a sparring partner for all concerns during the glasstec virtual.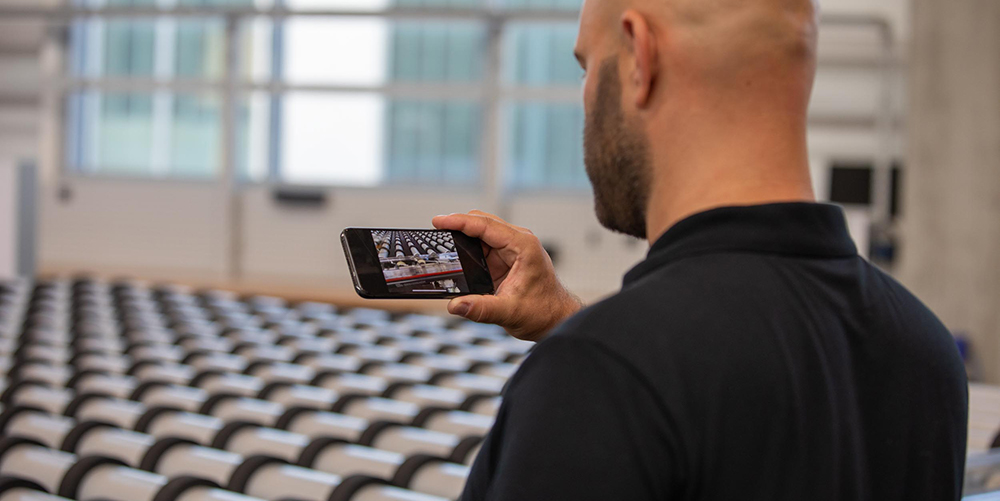 Collaborate even more closely with Collaboration App
Interested parties can find out how Grenzebach, as a sparring partner of the glass industry, is using the new collaboration app in a webinar at glasstec virtual on October 21, 2020 at 1.40 pm. Florian Nagler, Head of Global Service Sales at Grenzebach, will show how the Collaboration App makes remote support even more powerful. In a production environment managed by SERICY, cross-company collaboration is possible at any time. Maintenance staff and production planners can plan maintenance together; tasks can be distributed and photos and videos can be shared via the integrated chat. "Via a live video stream, our service specialists can provide customers with concrete support and instructions for work on the system - bringing us as a partner much closer again". Florian Nagler emphasizes: "Being close to our customers throughout the entire life cycle of a production line is an important core of our corporate and service philosophy. Wherever the individual participants are located. The Collaboration App is another important step forward - crisis-proof even against events like the COVID 19 pandemic. Through the app, we and our customers can share our wealth of experience with one another.
Grenzebach & CNUD EFCO GFT: Solutions from one source
Keyword experience: Grenzebach and CNUD EFCO GFT have an immense knowledge of applications with 300 installed systems worldwide. Both companies have been among the technology innovators in the industry since the 1990s. Together they cover a large part of the trades involved in a flat glass line, and customers benefit in many ways from their joint expertise in the hot and cold areas. Together they say: "We see the world through glass".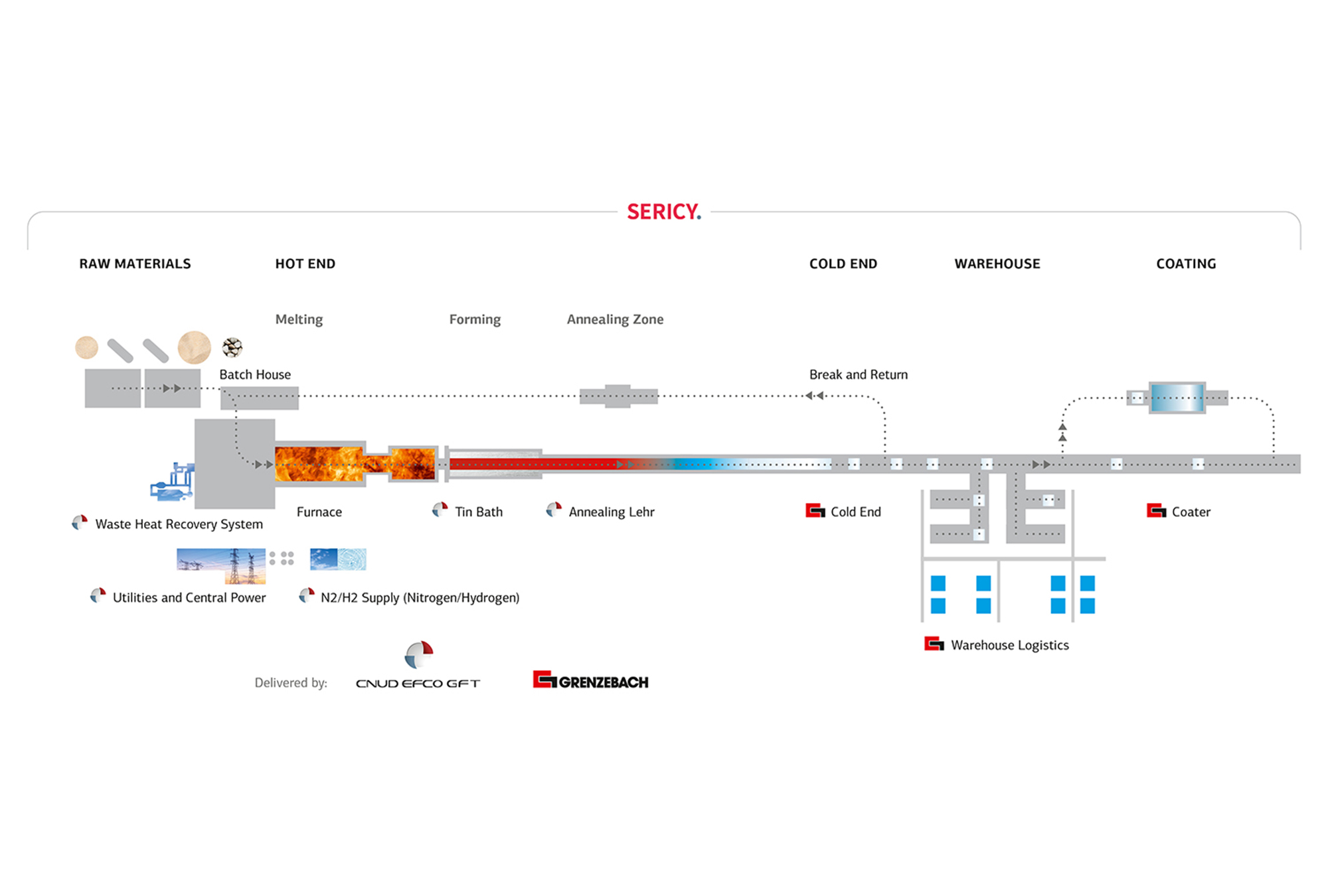 From Hot to Cold: Flat glass manufacturers benefit from the cooperation between CNUD EFCO GFT and Grenzebach through integrated solutions from a single source. From the tin bath to the cooling channel to the cold end, from coating to transport of the end product to the warehouse, everything can be planned together. Joint engineering means for customers, among other things, a uniform operating philosophy and an even more uncomplicated spare parts inventory. Data from numerous trades can be analyzed together and used for optimization. Markus Gruber, Vice President Sales Business Unit Glass, will give an overview of the joint offer of the global player at the webinar on October 20, 2020 from 1.40 to 2.10 pm.
Film off - Competencies and innovations at a glance
From applications for digital glass production to waste heat recovery systems: with films that visitors to glasstec virtual can access in the showroom, Grenzebach provides further insight into solutions to current issues that are of concern to companies in the glass industry. "It is important for us to take up the pressing questions of our partners on all channels - and thus to provide continuous information until we can meet again in person at glasstec 2021," says Egbert Wenninger.
Take along impulses until glasstec 2021
The Grenzebach experts are taking the impulses from the talks held at glasstec virtual with them in their preparations for glasstec 2021. Egbert Wenninger: "We are already looking forward to seeing our partners from all over the world in Dusseldorf in June 2021 in a very real way. Until then, we will be happy to be available at any time for an exchange of information and opinions". With a common perspective, the digital and analog world will continue. "We see the world through glass".
---
Get to know our innovations by joining our presentations. At a glance: