Three lines for the "Cold End" for Jiangyin Town
Three new Cold End lines are currently being built at Fuzhou Xinfuxing Float Glass Co. Limited. The customer starts its own float glass production – at the Jiangyin Town location in Fuqing City an entirely new glass manufacturing world is being created, which even required the ocean to be raised. The company is investing around 1.4 billion Renminbi Yuan (185 mio Euro) in the equipment at the harbor. The Fujian Xinfuxing Group emerged from a glass manufacturing company back in the eighties. "We have known Fuzhou Xinfuxing as a customer for more than ten years now. Back then we delivered the first coating equipment to the company, which processes glass for the building, solar and automotive sector. Our many years of market experience in Asia and our numerous facilities in China decisively contributed to our capabilities to support the customer on his way to manufacture his own flat glass", says James Shang, CSO at Grenzebach Jiashan. With the Grenzebach equipment, the Fuzhou Xinfuxing Group will be able to realize a bigger portion of the value-added chain on its own.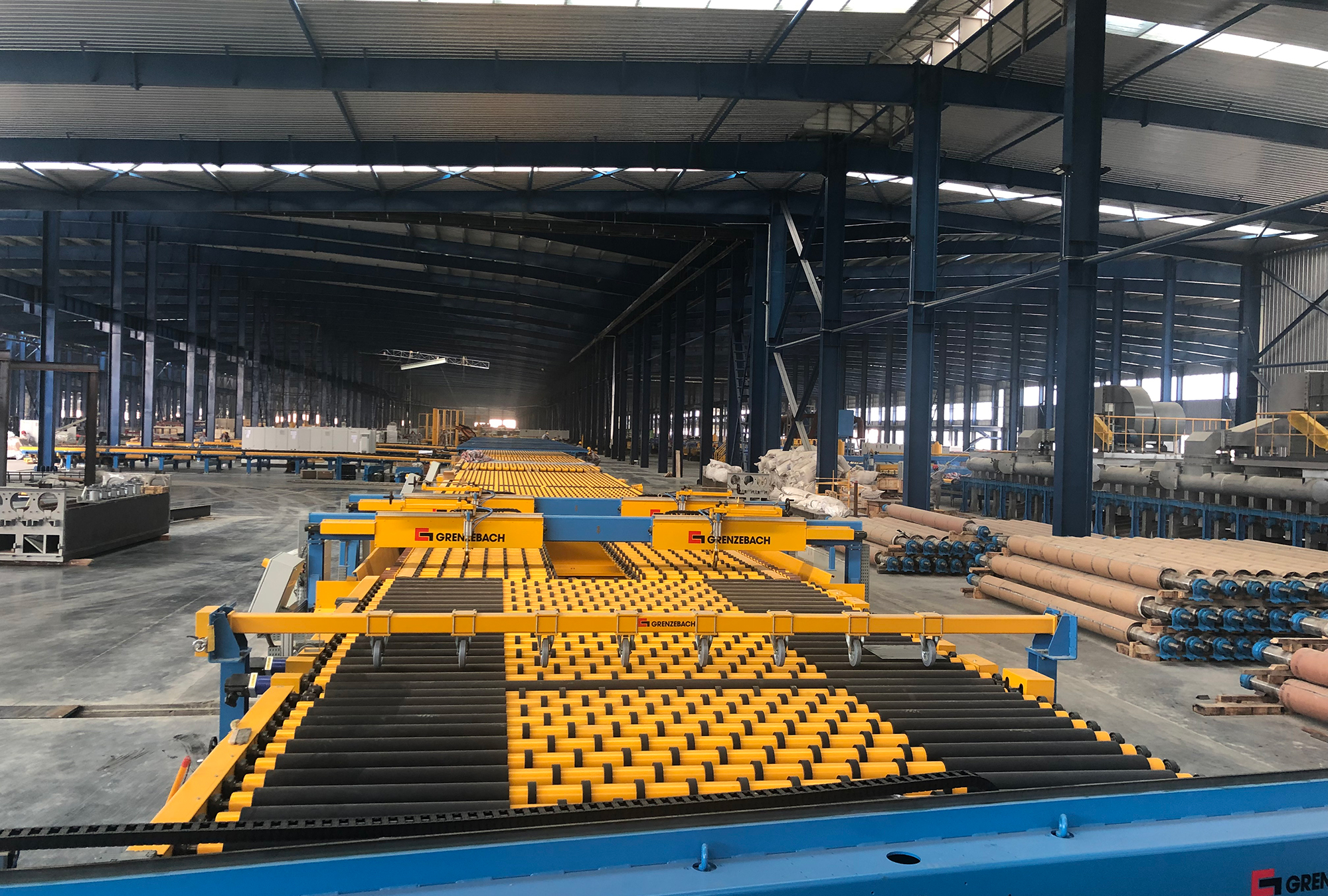 The three flat glass lines from Fuzhou Xinfuxing started operations in spring, will produce up to 2,300 tons of glass a day. Grenzebach supplies the entire high-end-level Cold End equipment. For the transfer from the lehr, the cooling kiln, to the de-stacking at the end of the float glass line, Grenzebach will be utilizing its latest technology. For the handling of the automotive and building glass, Grenzebach will supply a total of 14 stackers – everything from robots to classic swing stackers to swing stackers with an additional tin-air function. "China still operates many lines where the workers have to manually adjust the cutting technology. At Fuzhou Xinfuxing automatic cutting technology is used for all three lines", says James Shang. Furthermore, all production lines are equipped with the inspection system Float Scan Edge and optimization computers to maintain the same high-level quality and quantity at all times. Fujian Xinfuxing and the Grenzebach locations in Jiashan and Hamlar are working hand-in-hand on this premiere facility. "While the cutting technology, optimization system and software come from our colleagues in Europe, many of the mechanical parts, such as the conveyor technology or platforms, are manufactured in Jiashan. Working closely together on an international level is what makes us unique and strong – in Asia as well as on the other continents", explains Alfred Schlosser, CEO Grenzebach Asia.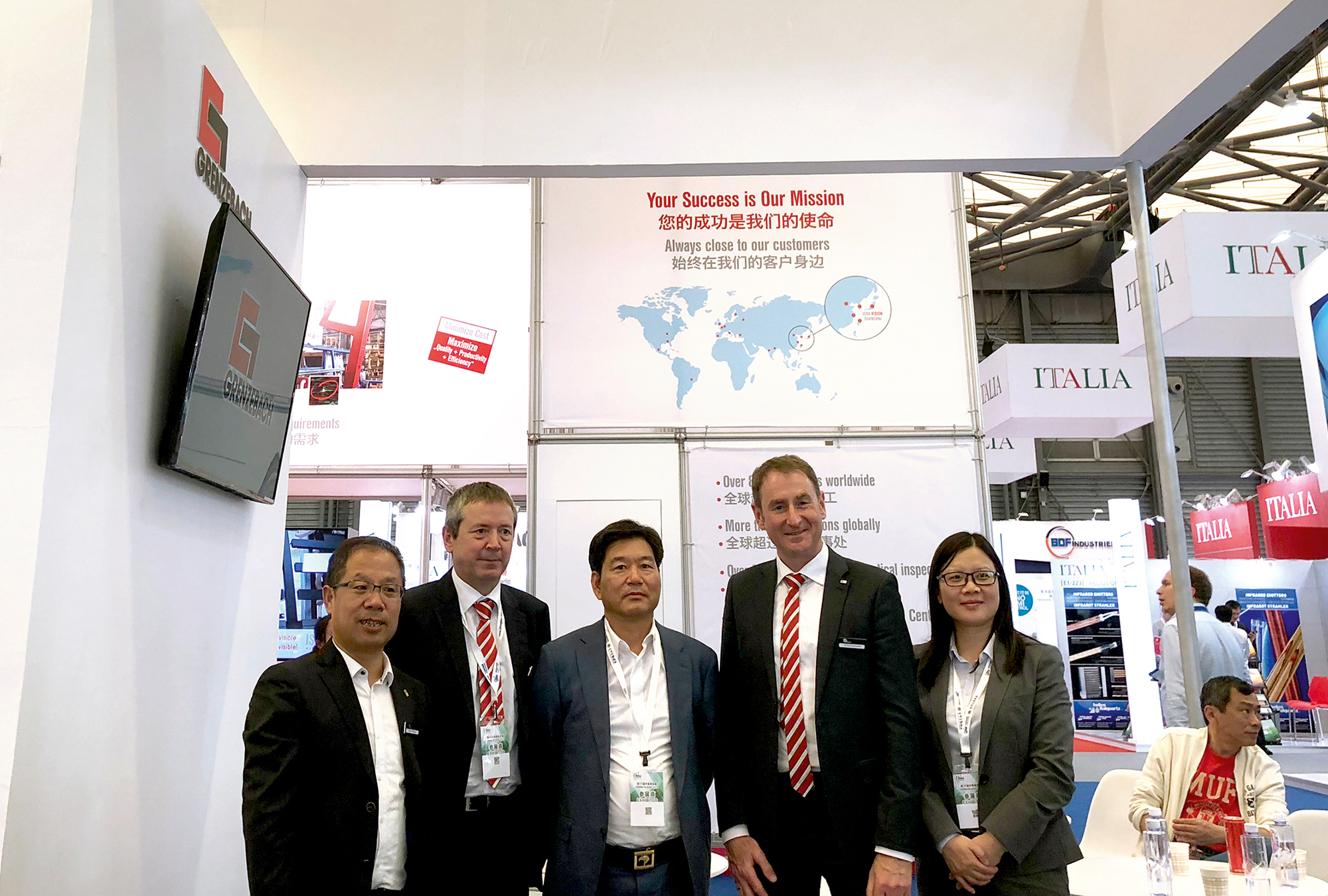 Taking full advantage of all the strong features within the stacking technology
A detailed look at the three Funian Xinfuxing lines: The automotive glass line will produce an output of up to 350 tons per day, including small and medium sizes made of sophisticated material which measures only 1.6 to 6 millimeters in thickness. For the handling at the Cold End, Grenzebach supplies a robot and three swing stackers with twin mode. The building glass line n° one produces window and facade glass with a thickness of 5 to 12 millimeters and a gross glass width of 5.2 m. A line with overwidth, which stands for energy efficiency, manufactures up to 1,200 tons of building glass per day with only one furnace. The building glass line n° two can deliver up to 750 tons per day including jumbo glass sheets, used with multi-story buildings and other architectural big-size applications. For this line a total of five stackers is quoted, which operate at seven unloading stations. A bottom-side feeder is used that can handle jumbo formats of up to eight meters. A swing stacker with tin-air-side mode is stacking small and medium-size formats (900 times 1300 millimeters and 2440 times 3660 millimeters). Two swing stackers for small and LES formats, which also work in twin format, allow for further flexibility. For the precise de-stacking at the end of the glass line, Grenzebach delivers high-quality technologies: from the simple manual unloading up to a fully automatic stacking for small, medium, jumbo and XXL jumbo formats, for a weight of 3 tons per plate.