Industry 4.0 meets Logistics 4.0
Cobots and Classics in one Fleet
Talking Intralogistics, innovative as well as sustainable solutions for the collaboration between humans, mobile robots and Automated Guided Vehicles (AGV) stand in the forefront for Grenzebach. In 2018, experts are presenting themselves at two shows at once, the Hanover Trade Fair and the CeMAT. For the first time, the Intralogistics fair takes place at the same time at the exhibition center. "En route to the Factory of the Future, it is only logical to integrate Industry 4.0 and Logistics 4.0 at the shows", says Uwe Dopf, head of the Business Unit Intralogistics at Grenzebach, adding: "With our modular and adaptable system solutions, we combine Cobots, Smart AGV and Classics of AGV Fleets, allowing us to generate sustainable added value."
Innovative Integrated Intralogistics
At the Grenzebach booth, visitors can watch a live demo of an AGV Fleet. With the Mobile Robot MR10S and the Automated Guided Vehicle FL1200S, we've integrated two innovations. "Location-independent, highly flexible and featuring integrated image processing. Mobile robots can move through all branches in the Factory of the Future", says Uwe Dopf. The Mobile Grenzebach Robot MR10S is especially used for the semiconductor industry; ideally suited for silicon wafer handling for the production of chips, such as used in smart phones. Efficiency improvements in the industry continue, also for the handling of standard pallets - the Intralogistics Classic. The Grenzebach FL1200S directly moves pallets with no additional load carriers or intermediate levels needed.
Video from Grenzebach at Hannover Messe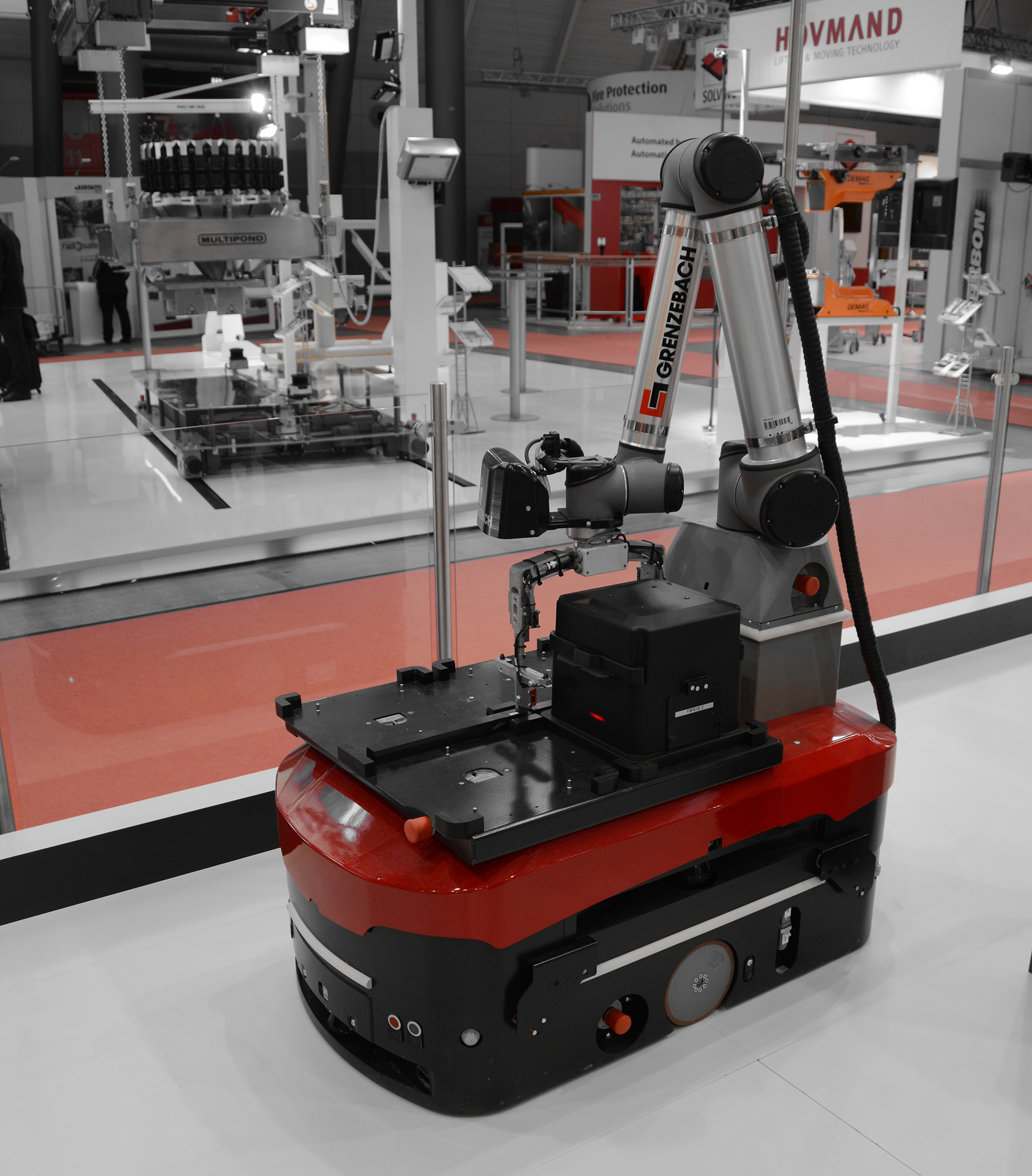 Optimization with the Fleet Manager
Genuine added value, genuine sustainability: The Intralogistics Fleet completes transportation and handling tasks with minimized distances, enabled by the Grenzebach Fleet Manager, one of the Grenzebach Application Server Apps. The Grenzebach application server allows to direct and control all sequences in the production mode in a look-ahead manner. Roland Jenning, head of Innovations at Grenzebach: "The Grenzebach Application Server is the modular center for the Factory of the Future. All applications are designed to fit existing applications at the customer plant. This is how digital transformation ensures genuine added values."
Speech at the Automation Forum
Roland Jenning will speak on added values on Tuesday, April 24, 2018 at 10:20am in the Automation Forum. "Not a day goes by that we are not confronted with new technologies and features within the Consumer Sector. In the meantime, this "nice-to-have" mentality has spread to the Industry Sector and countless Use Cases have been created with no genuine added value for the Factory of the Future and its sustainable usage", says Roland Jenning. Titled "Industry 4.0: Successfully generating added values in automation and process technology ", he will explain which ways Grenzebach will take towards the Factory of the Future.