Grenzebach with highlights at the glasstec
A special highlight at the show was an Automated Guided Vehicle for the distribution of glass packs. Markus Gruber, representing the company's "New Business" said that Grenzebach wanted to automate the individual glass pack distribution. Although Grenzebach supplies complete processing lines, process automation stops with glass off-loading onto racks. In-house transportation to the distribution point or interim store and further to truck loading is mainly handled with fork lift trucks. Drivers work three shifts around the clock. Grenzebach developed a system to bring the racks to the distribution points automatically. Roland Jenning, Manager Research and Development, explained that the vehicles were customized for the specific demands and used "contour navigation". They explore their environment by means of laser scanners to allow autonomous orientation. This entirely new self-learning system requires no modifications to existing sites. The presented L1200S is a futuristic looking vehicle suited for loads of up to 1200 kilograms. Roland Jenning stated that Grenzebach could build transport vehicles with a carrying capacity of up to 5 tons. The design is customized to actual needs.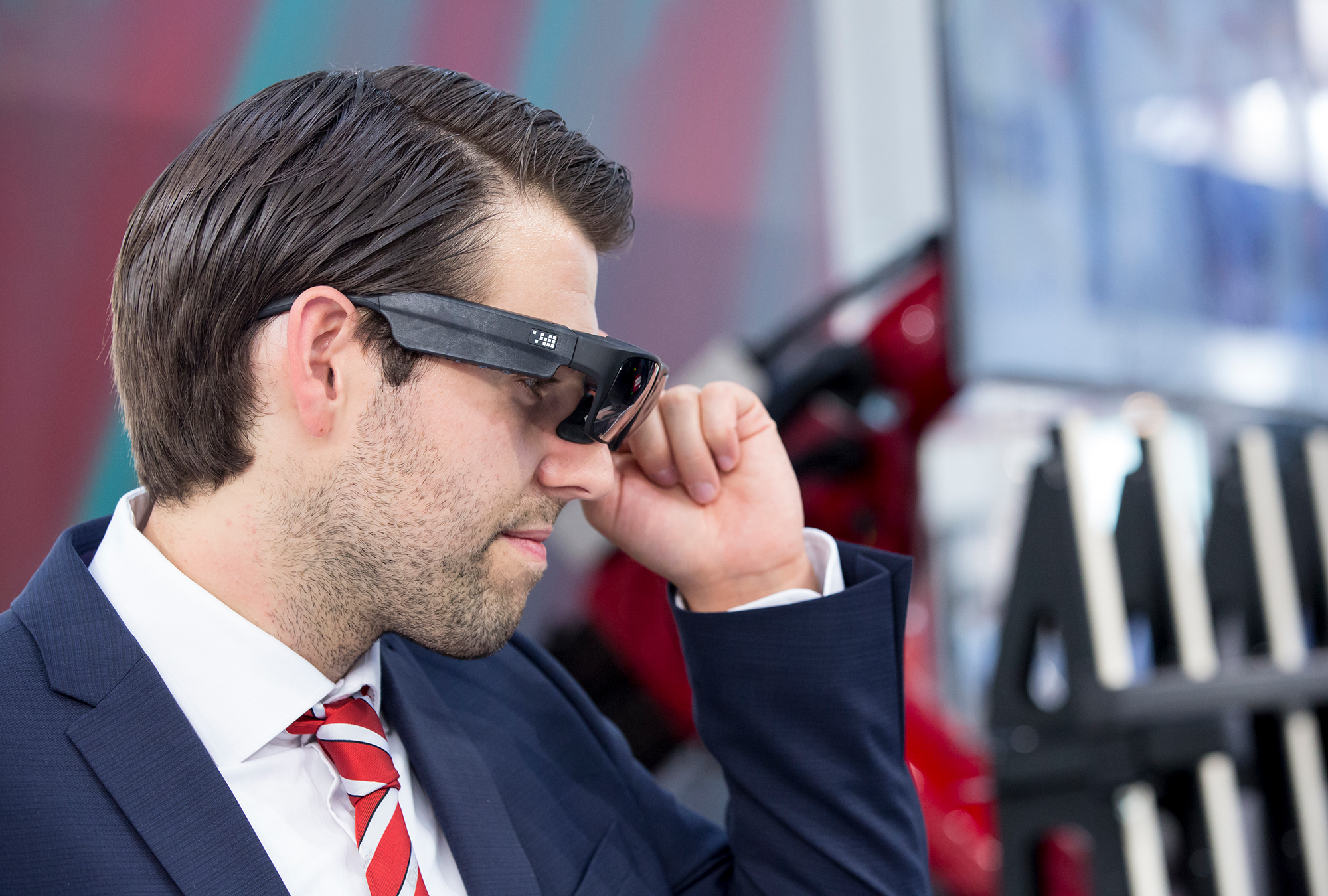 Remote maintenance has become the standard in large size machinery and plant engineering. Using various parameters, manufacturers are able to consistently monitor the equipment status and make adjustments if needed. Any time a problem occurs, either the system operator can fix it right then and there or the manufacturer sends a service technician. Markus Gruber responsible for Grenzebach's "New Business" explained that remote maintenance did however have its limits and that with the current technology Grenzebach were limited when it came to error detection. But he also said that Grenzebach was already ahead of the game. At glasstec, the system showcased was a one-to-one application, meaning that it is able to see and hear what the on-site technician experiences while operating the equipment. The technician is wearing a set of glasses with integrated microphones and a mini camera which transmits image sequences to the manufacturer's computer screens and allows for direct communication. But we don't stop here! Even drawings needed for repairs can be projected onto the glasses and codes such as data matrix read in. Roland Jenning, Head of Development, explained that they were using a series product and that it was not the glasses that matter the most, but the actual applications which were exclusively developed at Grenzebach. The benefits of the new system are obvious. Critical information is quickly made available. Response times are reduced significantly. Gruber added that maintenance and service were facilitated and that troubleshooting was much easier and more effective; additionally the system allowed for fast and direct communication with the plant operator, all of which maked for an outstanding service support.
New cutting head applies constant pressure
Another novelty presented at the exhibition was the brand-new cutting head especially developed for thin glass. While it is quite challenging to apply constant pressure onto the glass using a preset value, the trick is done by the strain gage, added to the cutting head, which records the applied pressure in real time. The enhanced Cutting Force Controller (CFC) can automatically adjust pressure diverting from the set value. Werner Rührer, Sales Director Float Glass, added that the strain gage data allowed for generating a constant cutting pressure even on wavy glass. Consistent cutting pressure produces significantly less waste compared to the conventional cutting approach while at the same time an improved scoring and snapping quality can be accomplished. Furthermore, the collected data can be stored in a database for analysis and subsequent control system optimization. Rührer said that if the data showed a consistently moving up and down cutting pressure, this was probably an indicator for improper glass thickness settings. The cutting head is available not only for new but also for existing Grenzebach processing lines. It is suited for all glass thicknesses with particular focus on thin glass ranging between 0.1 and 1.2 millimeters.