From professional athlete to corporate runner
On May 17th round about 50 runners from Grenzebach are participating in the 7th M-net company run, 6.3 km long. To date, Marc Freihoff achieved one of the best running times at 26:41 minutes. The business graduate works in the finance department at Grenzebach and is responsible for different topics, such as currency hedging, liquidity, financing and insurances. We wanted to know how the 49 year old stays on course.
Mr. Freihoff, why do you participate in runs?
I have always been into sports and played soccer when I was younger. My interest in running, however, started during high school. I once participated in a 1000 meter run at an athletics event and got first place. That was my motivation for middle-distance races (between 800m and 5000m) as a professional sport, including daily runs and participation in the Bavarian and German-wide championships. Finishing college and starting my career, I did not have as much time anymore to continue my hobby. Now I try to get out and run once or twice a week in the Ebersberger Forest east of Munich, running between 7 and 10 kilometers. I think running is a great opportunity to achieve good work out results without too much effort – put on your sneakers, shorts and a t-shirt and off you go; any time of the day, no matter the weather or season, fresh air and freeing your mind included.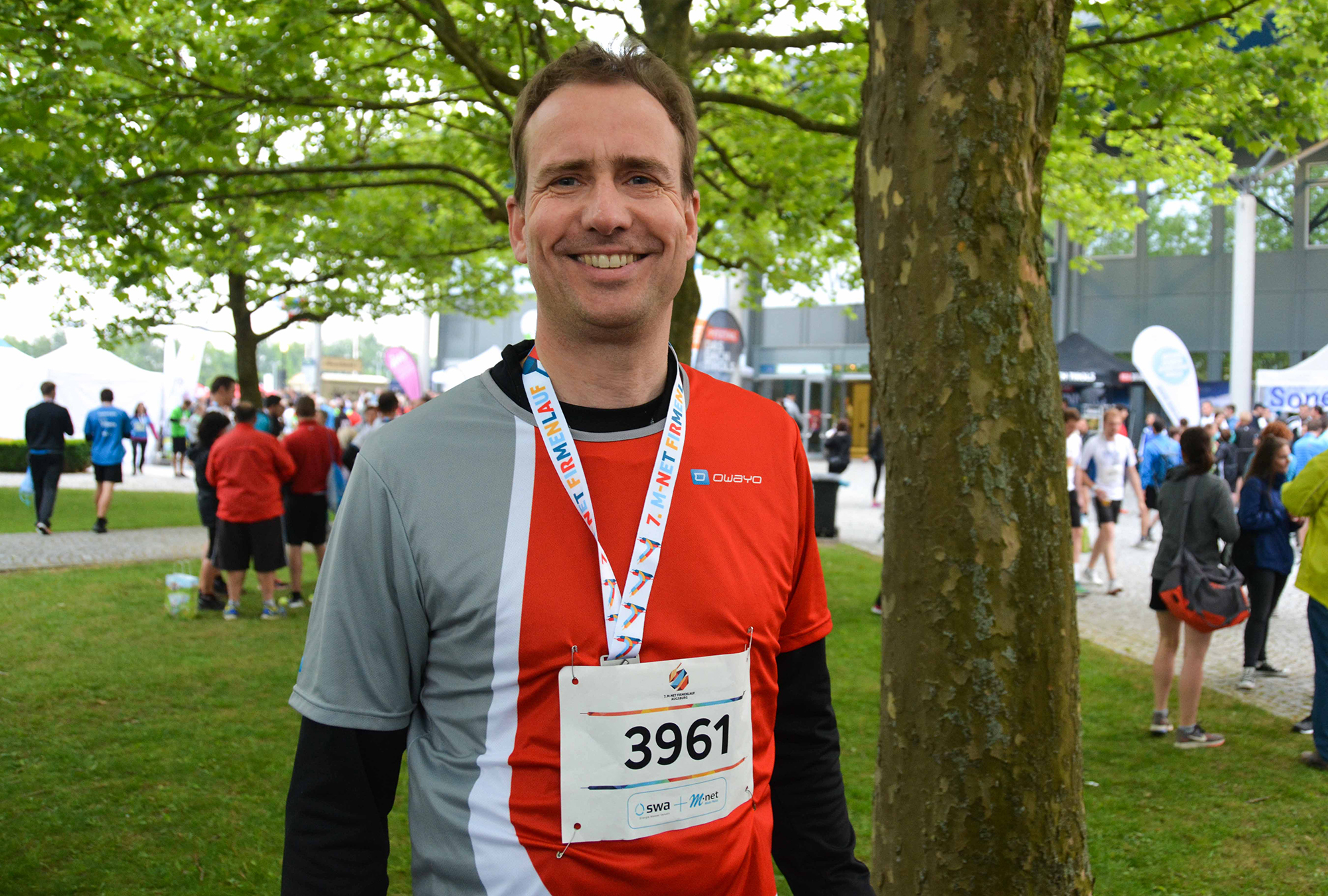 What is the atmosphere like at the M-net company run?
The first time I participated I was really surprised how many people signed up for the run and how many bystanders motivate you from the side of the road. This year, the run has approximately 12,000 runners. The run even features drummers to support the event. On the last stretch headed towards the Augsburg fair, you can easily add another 10% to your speed encouraged by the cheering crowd. Reaching the finish line, runners enjoy food and beverages and even a massage if they like. For those who want to stay a little later, you and your co-workers are live in concert with "Smile".
Mr. Freihoff, what do you personally take away from the company run and the exchange with your co-workers?
Signing up for the run is an incentive and motivation for me to continue my work out even during the winter months. I love the atmosphere during the run and the possibility to get to know my co-workers from another perspective – co-workers from sales and the shop floor alike. The company run is a great opportunity for new and interesting conversations. All runners will be invited by Renato Luck (CEO) to join for lunch at the Grenzebach canteen.