Facts, fun and food in Bad Hersfeld
That Grenzebach's global centre of competence for building materials technology, located in Bad Hersfeld, is also a good place to celebrate is something that 450 guests demonstrated on Friday, 15 June 2018. Employees were invited to bring their families and give them an insight into their work at Grenzebach. "The products and technologies developed here in Bad Hersfeld are in demand in various industries the world over. This is what we want to celebrate together today," said Renato Luck, CEO of the Grenzebach Group, when he welcomed the guests. Earlier in the week, some 80 Grenzebach employees from locations around the world had met in Bad Hersfeld for intensive discussions and workshops.
Focus on future technologies and energy efficiency
This was a summer celebration with lots of interesting information, a tour of the premises included. The 250 Grenzebach employees in Bad Hersfeld develop and build production lines for gypsum plaster, gypsum plasterboard and gypsum wall blocks, including the buildings. Plants for wood veneer production, wood-fibre and mineral based insulating materials production as well as veneer dryers also come from this location. Another focus is on process equipment and systems. The experts in Bad Hersfeld stand for energy and resource efficient manufacturing technologies.
In 2017, for instance, they delivered and successfully started up a special high-temperature heat exchanger, which uses sand of 800 °C to heat air, for a solar thermal power station in Saudi Arabia. Visitors could see for themselves where and how these new production facilities for the building materials and process technology sectors worldwide are designed and tested. The Grenzebach BSH Technology Center was open to show rotary kilns, fluid bed coolers, whirlwind mills and more. In 2018 the location's largest F&E budget so far is available for the development of new technologies.
Industry 4.0 becomes a reality
Turning the Grenzebach product world digital is also something that is driven forward with great motivation and commitment throughout the Grenzebach group and at the location in Bad Hersfeld. The initiative by the German engineering industry that has become known as Industry 4.0 is turned into reality at Grenzebach with great emphasis. Available plant data are analyzed with respect to their functionality, and the need for optimization, for example, is displayed as part of a self-learning process, with expertise being programmed into the software, so to speak.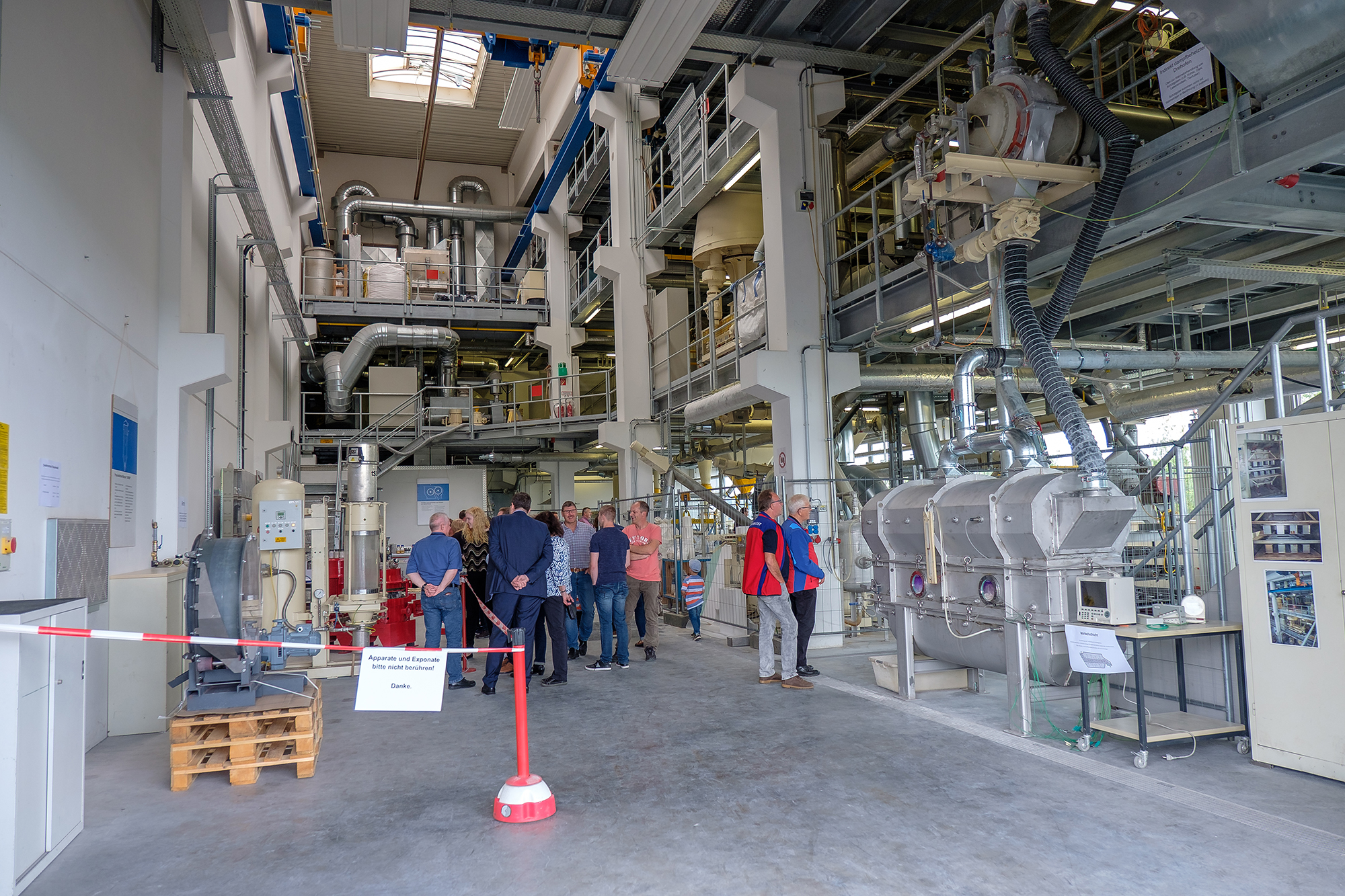 Apprentices present Smarties sorting machine
How young people are trained to handle the demanding tasks their jobs entail was explained at the summer celebration by those who know best: the 21 dual study program students and apprentices from 5 different fields themselves. "Providing young people with skills and knowledge and a strong sense of values matters greatly to us,", says Franz Wilbois, who heads Grenzebach BSH GmbH in Bad Hersfeld. With two presentations the trainees provided an insight into the different apprenticeship opportunities and dual study programs. They showed a CAD workstation and various apprentice projects, a skill game belt conveyor and a Smarties sorting machine - free tasting included.
Working together – celebrating together
It was not only the Smarties that added colour to the summer celebration; there was also the wheel of fortune, face painting for the kinds, and the smoothie stand. A rich barbecue buffet and food trucks offering burgers and pasta were provided to cater for big appetites after the healthy aperitif. Working together – celebrating together! With tasty food and drink the employees spent a relaxing day with their colleagues and families. Those who wanted to burn some calories again could test their skills at football darts. Other attractions for kids and those a bit older were Kettcar pedal cars, a giant slide and a raffle.
Even with no celebrations going on, health is always a matter of prime importance. In addition to several health events, Grenzebach BSH GmbH also helps protect the environment by sponsoring 34 electric bicycles for its employees so far.
Festivities like the summer celebration are always a good opportunity to collect money for a local charity or non-profit association. This year's proceeds from the raffle and the wheel of fortune go to the Förderverein Medikids in Bad Hersfeld, which uses them to help treat children from war zones and conflict areas at the Bad Hersfeld hospital.