Ping Wang likes koala bears and not only are they some of her favorite animals, but they also played an important role in choosing a name for herself to interact in an international business environment. Karla sounds similar to koala and for the 29 year old Chinese the name Karla furthermore stands for being brave and smart. Choosing a Western first name for your professional life is very common amongst Chinese. It makes it much easier for Europeans and Americans who have a somewhat hard time pronouncing Chinese names.
Language unites
Living up to her self-chosen name, Karla, following her German studies fearlessly jumped into the international business for glass production facilities. Asia is the biggest and most important market for Grenzebach glass technology. Concluding her studies in Nanchang in the South-Eastern part of the country, Ping Wang started her job search in Shanghai. "I absolutely wanted a job in which I can apply my German language skills", she says. Grenzebach approached her on the digital job market.
Terms, such as short cullet sheet, raw substrate feeding or high-speed stacker are hard to come across even in a specialized Chinese – German dictionary. Coating technology and cold end are topics that are not talked about no matter how specialized you language studies may be. When she first starts at Grenzebach in 2014 with the translation of contracts Ping Wang collects a tremendous amount of specialized knowledge. "The technical annex of a contract can easily be 100 pages – it would take me a whole month to translate", she remembers.
A sense for technical details
Karla quickly immersed herself into the projects. Today she manages a complex area of activities in marketing and sales at Grenzebach Machinery Ltd. She very much enjoys customer contact and stays focused learning all the technical intricacies. Communication skills and attention to details are critical when preparing for tradeshows. One of Karla's main tasks throughout the year is the organization of the China Glass fair in close cooperation with her German colleagues. The China Glass fair is the most important exhibition in Asia for the industry. Talking shop about the most recent fair is always a welcomed topic for Karla and her colleagues when they go out for lunch. It has almost become a ritual.
Visiting her German colleagues
Traveling from Shanghai several thousand kilometers west with no koalas in sight in Donauwörth, Bad Hersfeld and Stuttgart. When Karla visited Germany this summer for the first time she did not experience the expected cultural shock. It was her very first trip to Europe. "I knew a lot already from my studies as well as from articles and pictures – and of course from talking to my colleagues", explains Ping Wang. She was quite astonished, however, how much Germany has to offer economically even outside of the metropolitan areas.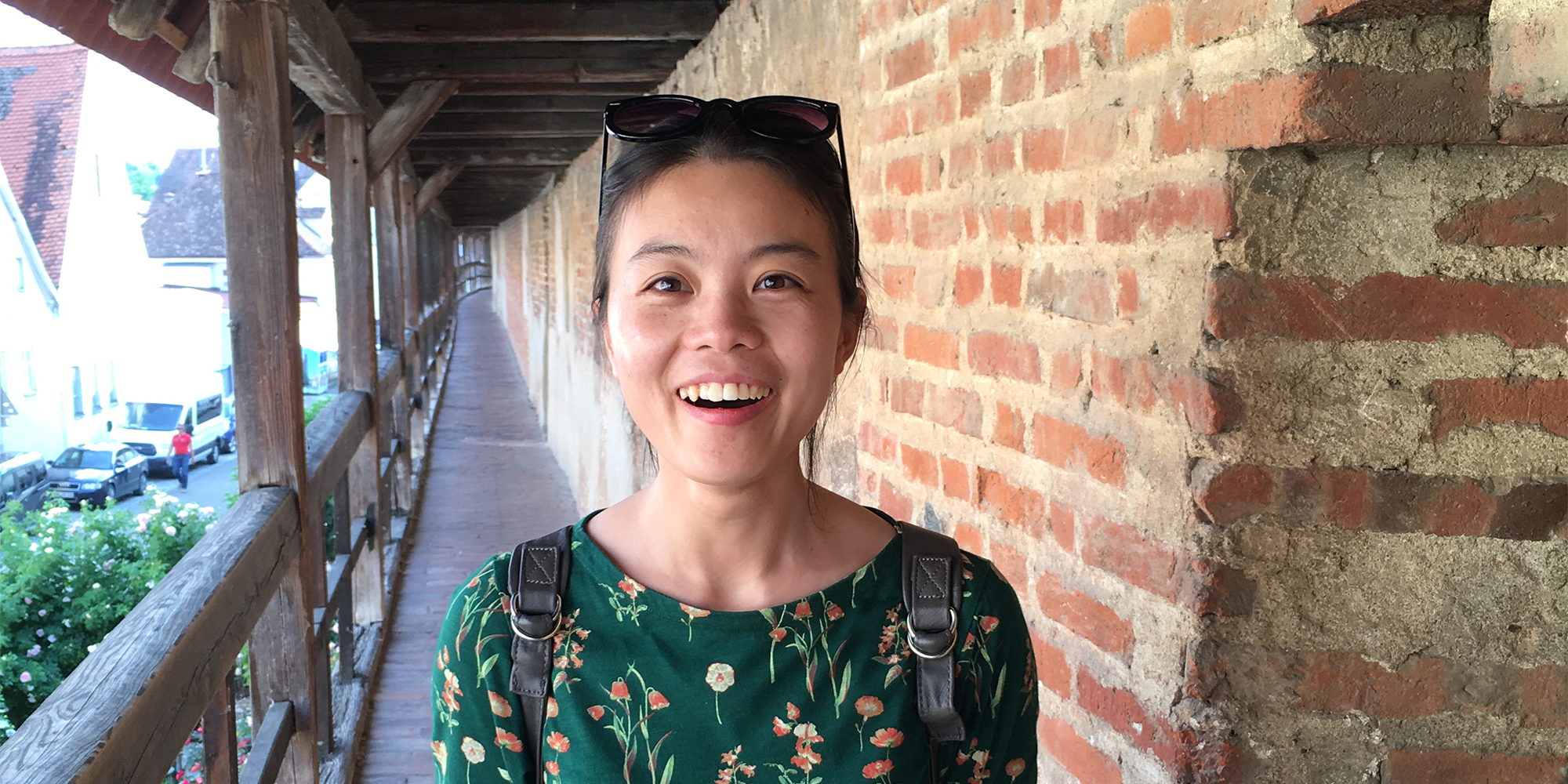 "The more traditional, the more charming. This principle applies almost everywhere in the world. This was also my impression in Nördlingen."
Motherly support in Shanghai
Karla grew up in the countryside approximately 700 kilometers from Shanghai. However, Karla's professional life started in Shanghai. Her husband who is a sales expert travels a lot due to his job. Karla's mother later moved in with her daughter to be able to take care of her one-and-a-half-year-old grandson and her father frequently travels to Shanghai to support the family.
Living in a mega city like Shanghai with 24 million people, Karla immediately fell in love with the small towns of Donauwörth, counting 18,000 and Nördlingen, counting 19,000, both close to the Grenzebach headquarters in Hamlar. "Donauwörth has very beautiful historic buildings. Everything looks just like on pictures in the travel guides."
"Made in Germany" as a motivator
Her German studies led her to her professional life at Grenzebach Shanghai. Why did Karla pick German studies? Karla explains that her choice back in 2008 was based on the good image of "Made in Germany" and the increasing interconnection of the German and Chinese economy. For the economic cooperation between China and Germany short cullet sheet, raw substrate feeding and high-speed stacker play an important role and are now all terms which are quite common to Karla in Chinese, German and English.