During the production of cut flat glass, molten glass floats over a bath of liquid tin. The tin bath is an important part of a flat glass production plant that produces tons of architectural, automotive or display glass every day. And here time is money. Maintenance work must be carried out as quickly as possible. Lukas Weiß, Simulation Engineer at Grenzebach, uses virtual reality to show technicians how the graphite wipers underneath the conveyor system in the tin bath are changed out step by step. "The graphite wipers have to be replaced only every few months. The employees who service the system in the factory can prepare themselves optimally with a VR application and replace the wipers quickly and safely," explains the 28-year-old. The function of the tin bath was explained to him in detail by his colleagues from CNUD EFCO GFT, part of the Grenzebach Group, and he knows exactly how the replacement works and has obtained 3D models and CAD files. "I take the section of the tin bath as a model and set up the exchange of the graphite wipers similar to a computer game".
The whole industrial life in game mode

Using gaming technologies to illustrate complex processes from real life is the main responsibility of a simulation engineer's work. "Now I can finally get a real picture of how it all works." (Customer) comments like these are among the most rewarding compliments for Lukas Weiß. He is also recognized for producing videos which make the process of additive manufacturing, i.e. industrial 3D printing, more transparent station by station.
Early enthusiasm for VR technology
For Lukas Weiß, working as a Simulation Engineer resembles playing with Lego robots, just at a much higher end level. "It's like a childhood dream come true." Together with his brother he had bought VR glasses when VR applications were just starting to develop. He would take on a character by digital means to merge into parallel worlds for role playing games.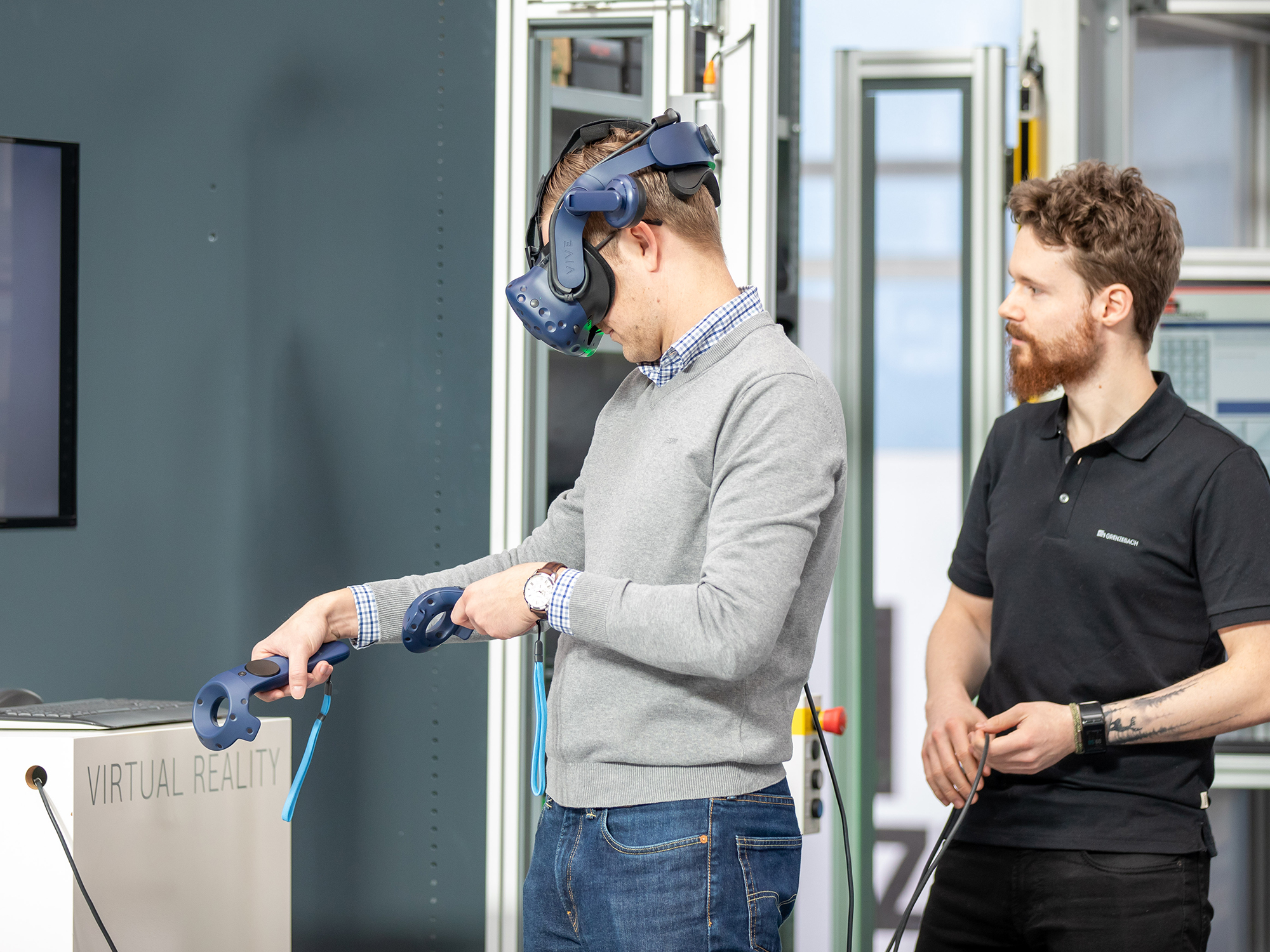 Familiar with the Grenzebach world from an early age
Lukas Weiß has grown into the world of Grenzebach from an early age. His grandfather worked as a buyer at the company's headquarters in Hamlar near Augsburg until he retired; his father completed an apprenticeship as a technical designer at Grenzebach, then went on to study chemical engineering and is now working in the food industry. "Grenzebach still has the charm of a family owned business. I like the atmosphere, the easygoing manner." Lukas Weiß already immersed himself in different worlds at Grenzebach while studying mechanical engineering at Augsburg University of Applied Sciences. During his internship he worked on layouts for complex industrial plants and during his time as a student trainee his skill as a simulation engineer became apparent. The title of his bachelor thesis: "Conception of a performance analysis tool in the field of flat glass handling based on geometry simulation".
Next step: virtual meeting at the plant
The next practice level from the perspective of Lukas Weiß: Design engineers from Hamlar and Newnan in the US can meet at a plant via VR glasses to discuss the ideal position of a maintenance access. Or: Augmented Reality (AR), also referred to as extended reality, can be utilized in service. Using AR applications, the customer at the plant and a Grenzebach service expert can solve a problem together without the need for travel.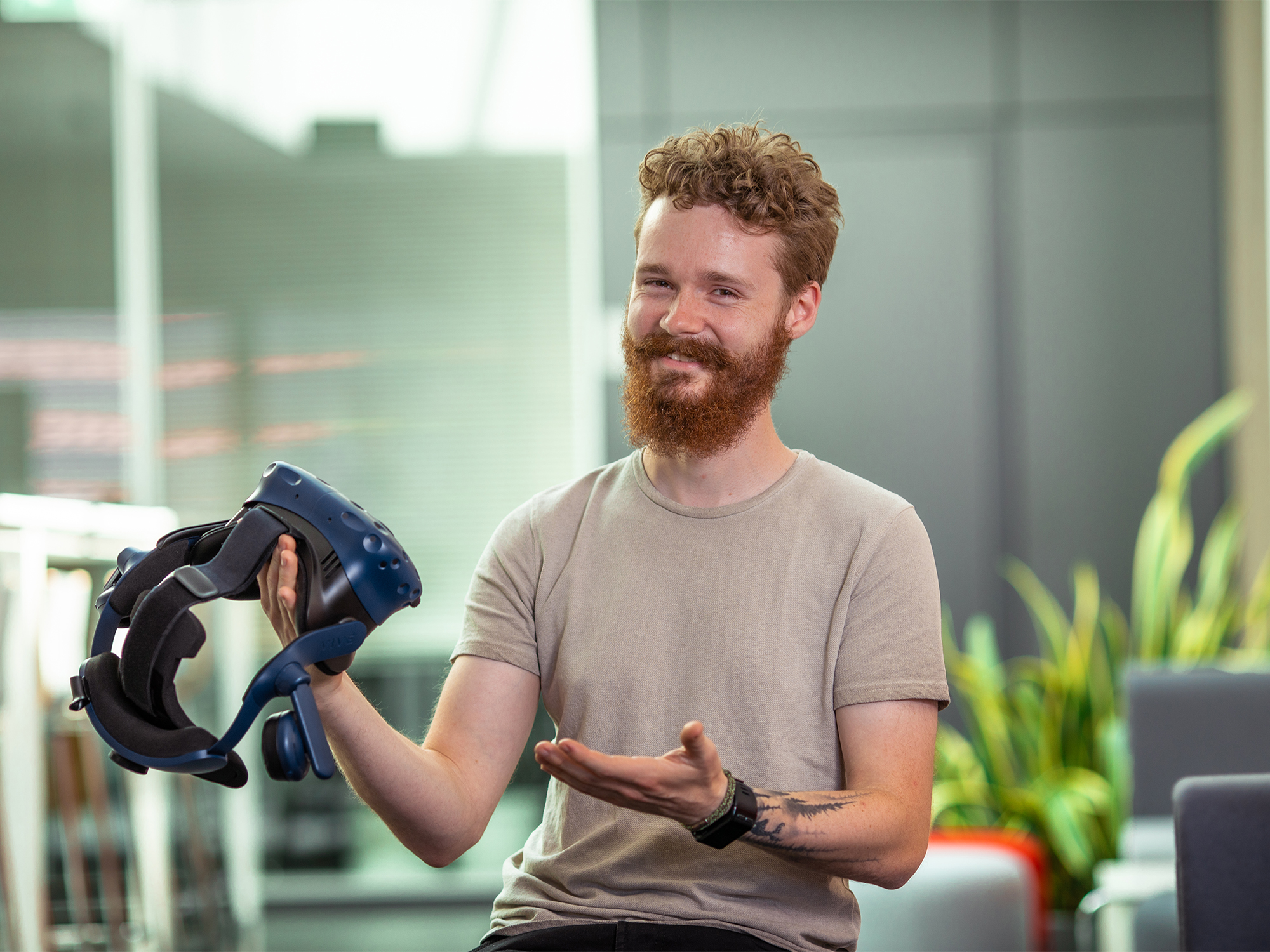 "Joining Grenzebach as an intern and student trainee was ideal: I was able to gain work experience and earn money for college."
Passion for medieval times and bagpipe playing
From the present and the future to the Middle Ages. A time that has fascinated Lukas Weiß since his teenage days. He learned to love the historical castle festival in Harburg and went to medieval festivals. The music of the epoch particularly appealed to him. Lukas Weiß took bagpipe lessons: Blowing in air, pressing the bellows with his left arm and executing the proper grips on the flute: Lukas Weiß worked his way into this world and has been playing in a band for about ten years with another bagpipe enthusiast and a drummer. "We'll put together a one hour performance, then it'll simply be too loud for everyone," says Weiß and laughs.
Relaxing on a deer stand
Too loud? Good thing that Lukas Weiß has another world to immerse in. The forest. He's always liked the outdoors. As a kid he used to go hiking and mushroom hunting. Friends from high school motivated him to get his hunting license. He spent half a year studying for the "Green Diploma" parallel to his mechanical engineering studies. Retreating from thermodynamics examinations, morphology and anatomy of wild ducks and swans seemed like a good idea. "I could have pictured becoming a forest ranger. Now I live out my passion for the forest by hunting." He has a permit to visit a hunting ground in Wolferstadt, near Donauwörth, to support the game tenant there. Spending a few hours at sunrise or sunset on the deer stand means pure relaxation for the 28-year-old. "Watching with binoculars when all you can hear are the sounds of nature, that's what I like. I like the peace and quiet and enjoy the occasional bird chirping or a branch cracking. That's how I refuel."