Kai Hofmann likes to kick off meetings with a little small talk about vintage cars. He enjoys talking to his customers and business partners about his VW Karman Ghia and he likes to show pictures of beloved vintage cars on his smart phone. "A lot of customers share my passion for historic vehicles. And it's always a good conversation starter," says the 41-year-old. Whenever his time allows, Kai works on restoring his car, which was manufactured back in 1970. The Karman Ghia was designed after the German VW Beetle. So most spare parts, except for the body, are quite easy to get. "I just have to search for the parts on the Internet," says Kai.
Always busy
After work the 41-year-old is often busy looking for parts for his Karman Ghia. His professional focus, however, is to keep customers' equipment and machinery running. Kai Hofmann works as a Sales Service Manager for the Building Materials production technology that is developed at the Grenzebach location in Bad Hersfeld, Germany. Hofmann makes sure to keep equipment up-to-date so that downtimes are avoided and spare parts can be obtained easily and quickly when needed. "We offer equipment upgrades for our customers so that they do not have to struggle with discontinued components, and for control systems and motors to match the operating system," explains the Sales Service Manager who meets with customers all over the world. Furthermore, he always has an eye on the energy efficiency status of the equipment. This technology shall run on a "burn less fuel " basis, or in other words consume less resources.
Traveling to Novomoskovsk and Voskresensk
"I enjoy meeting people from different cultural backgrounds and learning about their traditions. It is important to me to establish good communications and to create a relationship of trust with the customer," says Kai. Since he started working at Grenzebach again in spring of 2018, he has been on the road a lot. He traveled to Novomoskovsk in Russia to troubleshoot a gypsum block production line and to evaluate what spare parts might be needed. In Voskresensk, about 250 km from Moscow, he presented a quotation for a gypsum plasterboard production line. "My contacts in Russia are perfectly fine when I talk to them in English. Every now and then we add some German vocabulary." The common interest in vintage cars is anyhow not bound to a specific language. Hofmann just returned from a trip to Kuala Lumpur in Malaysia where he evaluated a gypsum plasterboard production line. Another traveling destination: North America. From a customer in McAdam on the Canadian East Coast he seeks feedback on various quotations submitted to them. At Grenzebach in Newnan, Georgia, he has the opportunity to exchange views and opinions with his American colleagues. And he will also make a stop at a customer from the wood industry in Jacksonville, North Carolina.
Traveling as a passion
Conversing with people from all over the world is one of the advantages of his job. Before he returned to Grenzebach, he worked as a Sales Engineer for a manufacturer of special-purpose vehicles all over Europe. "I just felt the need to show my skill set with another company". For eighteen years before he made that move, Grenzebach in Bad Hersfeld was his home base. His apprenticeship as an industrial mechanic at Babcock BSH (this was the company's name before it joined the Grenzebach Group) was followed by several years in the assembly workshop. Kai was offered a two-year training program to become an engineering technician and during his vacation continued with equipment assembly. From the classroom at the Ferdinand-Braun-School in Fulda he started in 2009 to meet his international customers for business negotiations. As a member of the Sales Service for gypsum block production lines he also traveled to Brazil. "Until this day, I enjoy the frequent traveling to different locations."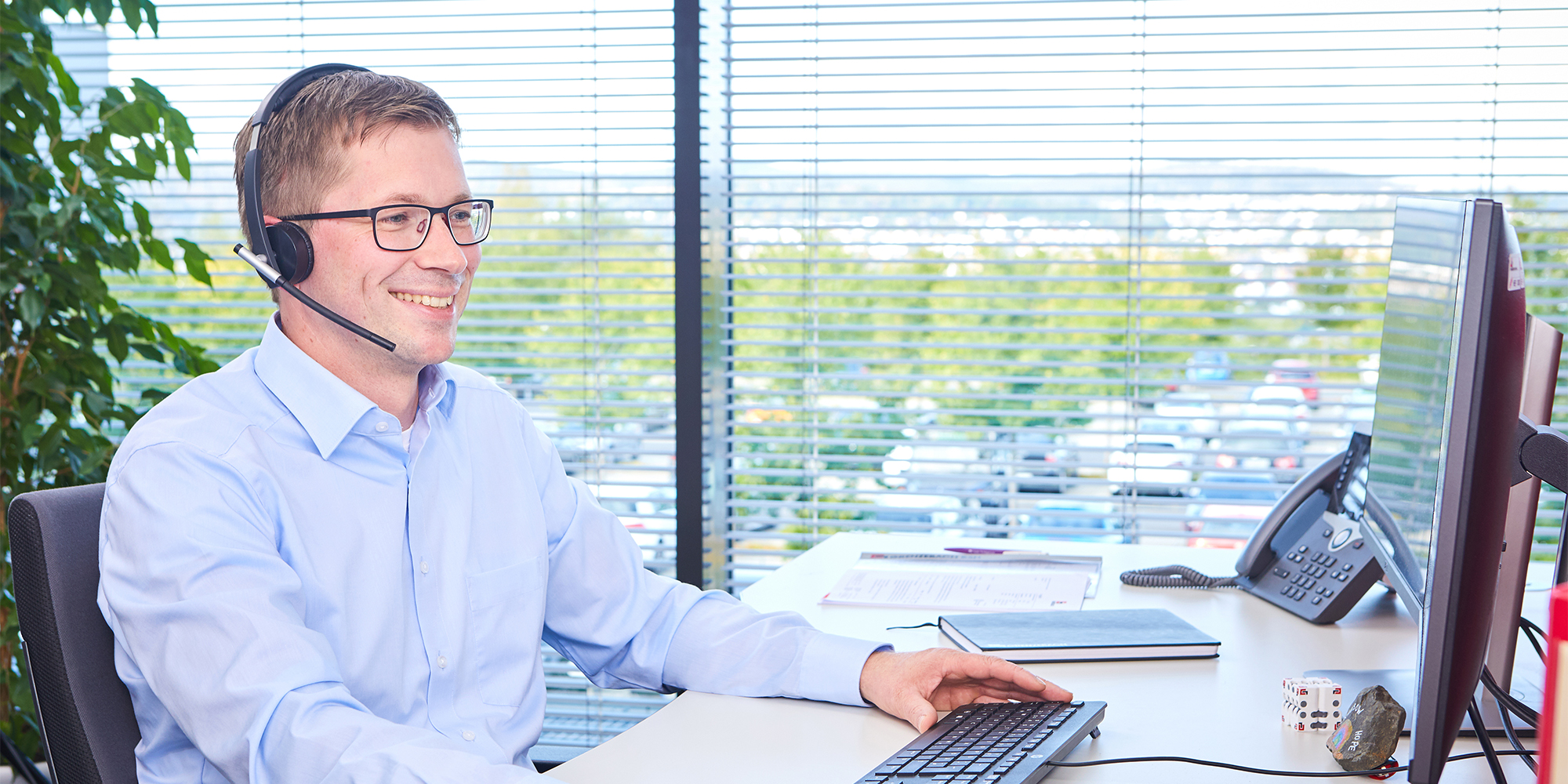 "Be open for new challenges: That's just part of my everyday life."
Taking the Zündapp for a spin around town
His time away from work belongs to his wife, his son (8) and daughter (3). The family lives in the former farmhouse of Kai's parents in Niederaula. An outbuilding serves as Hofmann's garage for his second vintage vehicle, a Zündapp KS Super Sport, built in 1968. He used to drive the Zündapp bike when he was only 14 years old. Every now and then Kai still takes the red moped for a spin around his village. "Cruising on my moped helps me to wind down and relax."