Whirlwind mill – grinding technology finely tuned to your bulk material
High end finenesses
At Grenzebach, we understand how complex the behavior of different bulk materials can be during grinding. Therefore, the focus of our whirlwind mill is the targeted further development of our mill concept to suit your task.
With more than 40 years of project experience and know-how from continuous trials, we are able to meet your challenges flexibly. Thanks to different sizes and technical adjustment options, we can meet your requirements for throughput capacity and particle size distribution in the best possible way – even with minimal available space.
A strong partner right from the start
From planning to commissioning, we offer you professional support. Whether it's the construction of an entire grinding plant or the integration of a whirlwind mill into your existing production, you get the solution you need. We are available to answer all your questions and happy to support you on the basis of our many years of experience.
Advantages of the whirlwind mill
GEARED TO YOUR SUCCESS
Adjustable end finenesses
The grinding gap of the whirlwind mill can be easily adjusted and the speed can be changed without complications. You can quickly and flexibly adjust your grinding results. If the quality of the raw material fluctuates, you can react quickly.
Space-saving in your operating environment
With its small dimensions, the whirlwind mill can easily be integrated into your existing infrastructure. Special foundations are not required, due to the whirlwind mill's low-vibration operation.
Low maintenance
The whirlwind mill has a simple, robust design. Thanks to its screenless design, users also benefit from low cleaning requirements.
Maximum service life
With its integrated right-left running, the eddy current mill allows you to make optimal use of the service life of your grinding tools and wear protection segments.
The whirlwind mill – an all-rounder
Wide range of bulk materials
The whirlwind mill can be used to grind soft to medium-hard bulk materials for a wide range of applications. It can grind a variety of rocks, minerals and materials, up to a Mohs hardness of 5. It can even defibrate paper. Some examples will give you an idea.
If you don't see your bulk material in this list, please don't hesitate to contact us! Beyond the bulk materials mentioned, the whirlwind mill is the ideal technological solution for a wide range of materials.
Cryogenic grinding and mill-drying with the whirlwind mill
Special application
The Grenzebach whirlwind mill is also ideally suited for special applications such as the grinding of temperature-sensitive materials. When cold grinding – also called cryogenic grinding – is necessary, the whirlwind mill provides particularly aroma-friendly process conditions. For example, the aroma and flavor of spices are optimally preserved during grinding. Sensitive products can be ground fine without negatively affecting their properties.
The individual adjustment of the whirlwind mill to the special application also allows the products to be mill-dried. Thus, the material can be ground and dried in one work step.
Process parameters of the whirlwind mill at a glance:
Throughput capacity ranging from 50 to 20,000 kg/h

Product temperatures up to 200 °C

Grinding of products up to Mohs hardness 5

Particle size feed up to 30 mm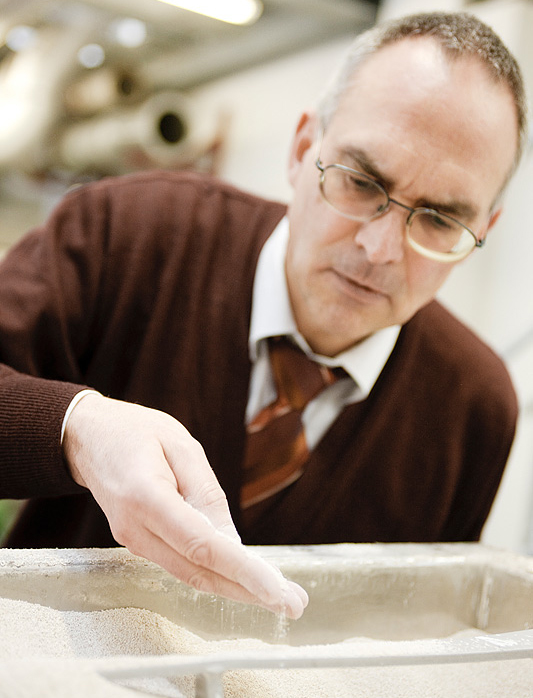 Further process solutions
Wir sind für Sie da
Your contact person: Patrick Barthel
Do you have questions about the whirlwind mill? Would you like to discuss a specific material? Contact us – we will be happy to advise you!