Reduced volume: huge potential for a more efficient process chain
Advantages of VACUPRESS
In process engineering, processors of bulk solids are constantly confronted with the challenges of high volumes. The product-friendly deaeration and compaction of fine, free-flowing bulk solids with Grenzebach's VACUPRESS opens up new possibilities for optimization:
With possible volume reductions of up to 75%, and a simultaneous increase in bulk density, the VACUPRESS creates the optimal starting point for your transport and storage processes. Specifically, not only can the space required for storage be significantly minimized, but a higher quantity can be transported. This added value directly opens up new cost advantages for you as a user.
High levels of air entrapment, which previously caused bulk solids to flow like water and generated large amounts of dust, can be bypassed in the future with the unique deaeration and compaction principle characterizing the VACUPRESS. Benefit from optimized handling properties that enable faster, dust-free dosing and packaging processes.
828
VACUPRESS units sold means our experts can draw on a wealth of project experience. Combining this experience with our in-depth process engineering knowhow, we develop the efficient solution for you!
Perfectly integrated into your process environment
The VACUPRESS powder compactor from Grenzebach shows its strengths wherever an increase in bulk density and a reduction in the volume of fine powders is required, for example for packaging, storage or further processing. Thanks to its small size and light weight, the VACUPRESS can be integrated into your existing process chain extremely economically and flexibly.
Thus, the VACUPRESS can be used upstream of the following process stations:
Packing equipment
Silos
Dosing units
Granulators
Pelleting presses
Briquetting presses
For a wide range of bulk materials
Possible applications of the VACUPRESS
The VACUPRESS can be used to compact all types of bulk solids. Ideally, they should have a particle size of less than 40 µm and an initial bulk density of less than 750 g/l. Especially significant volume reductions are achieved with fine-grained bulk solids and powders. We present some selected examples to show where the powder compactor is used today.
If we haven't mentioned the bulk material you are working with, please don't hesitate to contact us! Thanks to a wide range of filter media and configuration options, the VACUPRESS can be individually adjusted and optimally adapted to the material to be deaerated. You get a solution that exactly meets your needs!
Process parameters of the VACUPRESS at a glance:
Throughput capacity from 30 up to 10,000 kg/h

Volume reduction up to 75%

Product temperatures up to 100°C

Particle size max. 40 µm

Initial bulk density max. 750 g/m³

ATEX-compliant available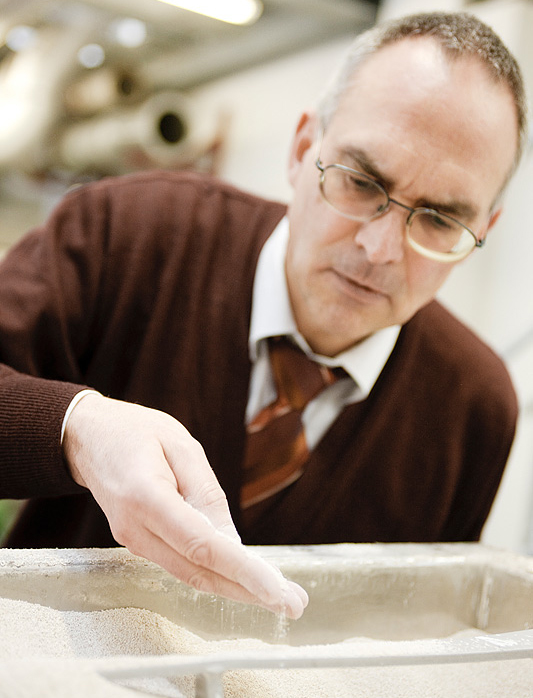 Further process technology solutions
Contact
Your contact person: Philip Wagner
Do you have questions about the functions of the VACUPRESS? Would you like to discuss a special use case? Feel free to contact us. Grenzebach's experts are always at your disposal.