Robot-assisted friction stir welding systems
Highly flexible in three dimensions
With robot-assisted friction stir welding systems, Grenzebach has opened up completely new areas of application for FSW technology. Welding robots already support numerous applications in industrial 24/7 series production, and are also used in research and development, working on prototypes and small series.
Active force control in combination with robot kinematics not only enables full 3D capability of friction stir welding, but also allows joining in constrained positions, such as overhead or transverse. Our CAD/CAM programming system allows us to handle even complex welding paths and parameters.
Higher-level process and system control ensures process stability
Working range DSR2000: R 1.295 mm – 2.675 mm; (X/Y plane) Z 3.371 mm
Two workstations for loading in parallel during production ensure efficient production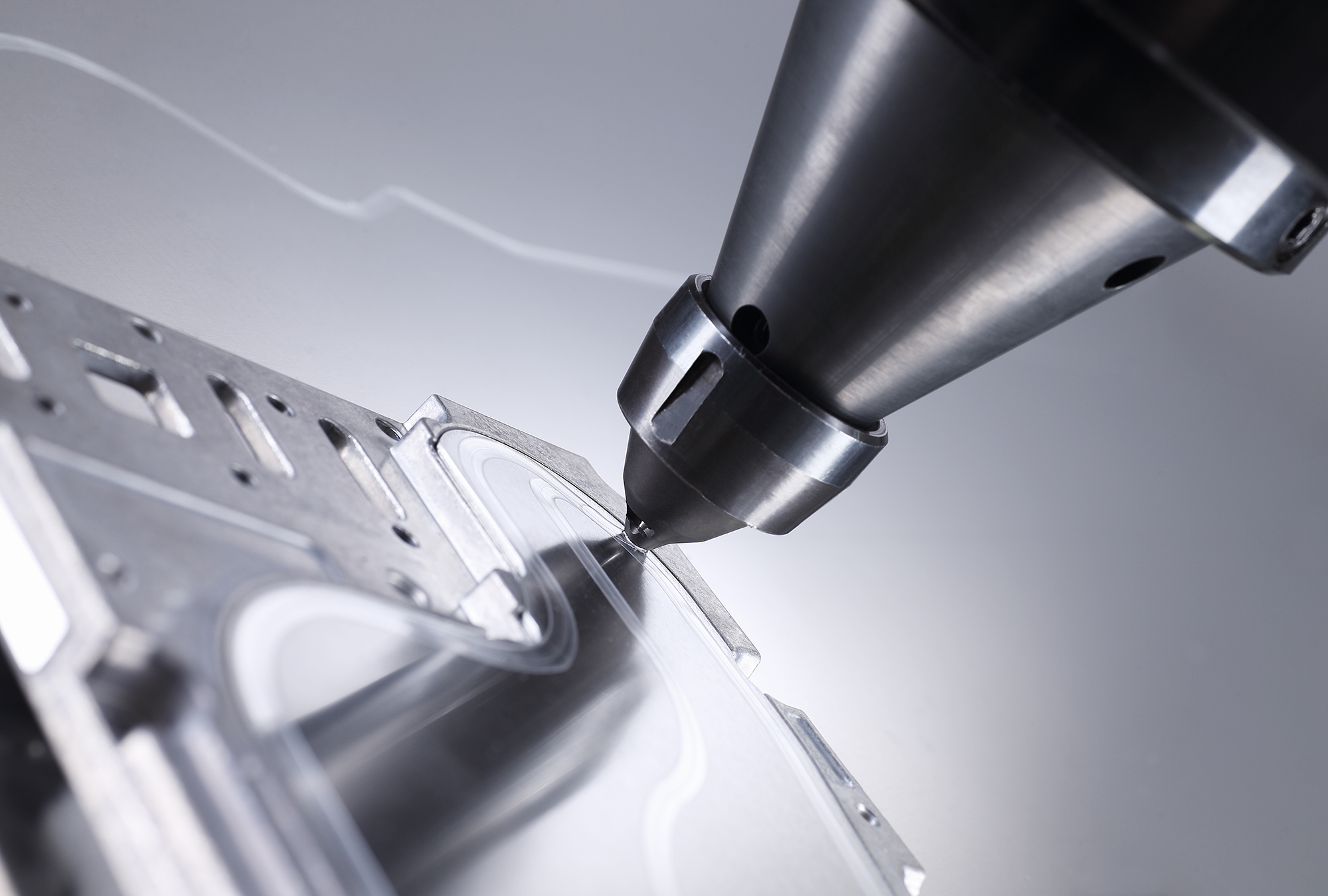 "We have been welding heat exchangers for the automotive industry with the robot-assisted system from Grenzebach for several years. We are more than satisfied. Thanks to this technology, we can supply car manufacturers extremely efficiently. This is one way we are contributing to the mobility transformation."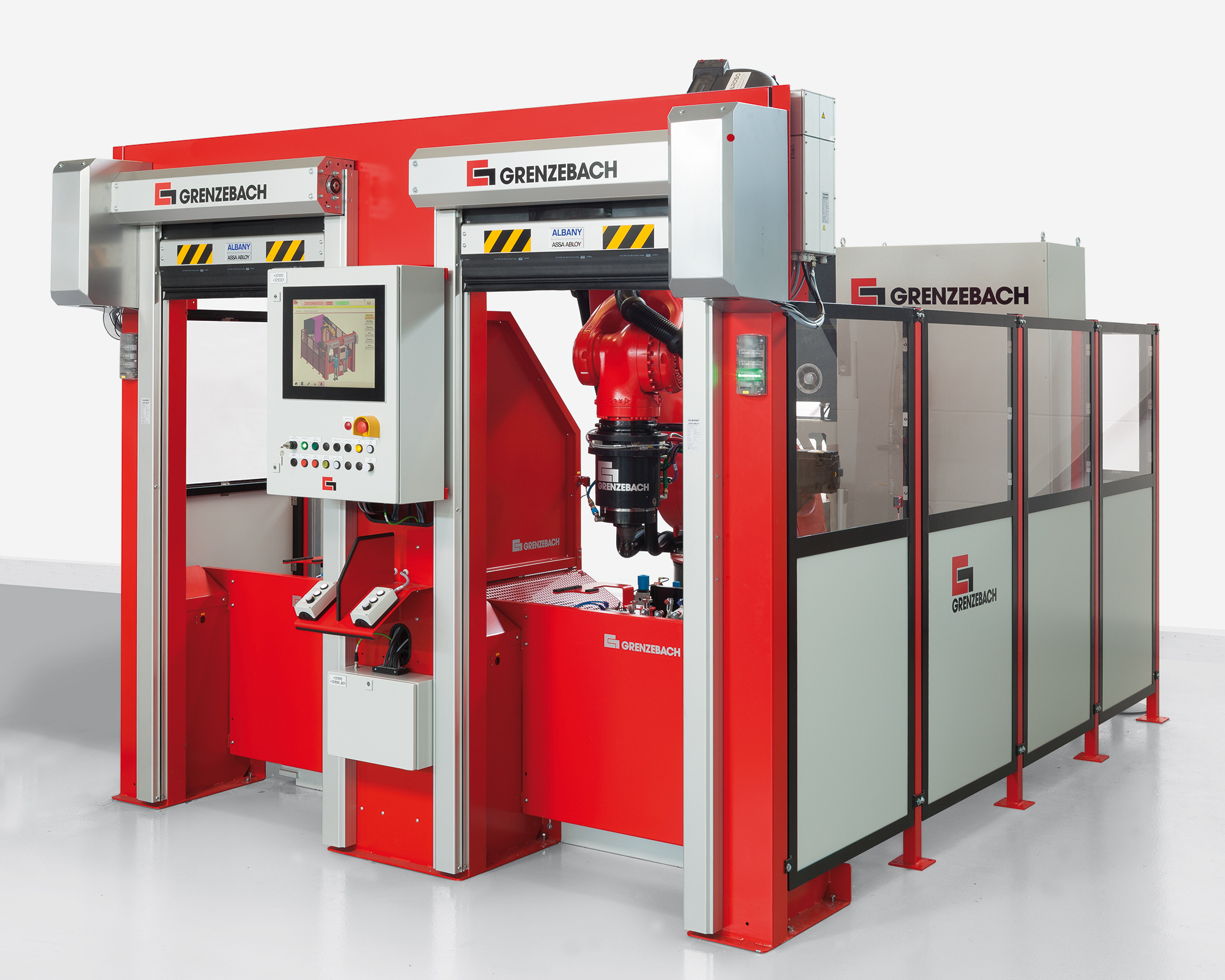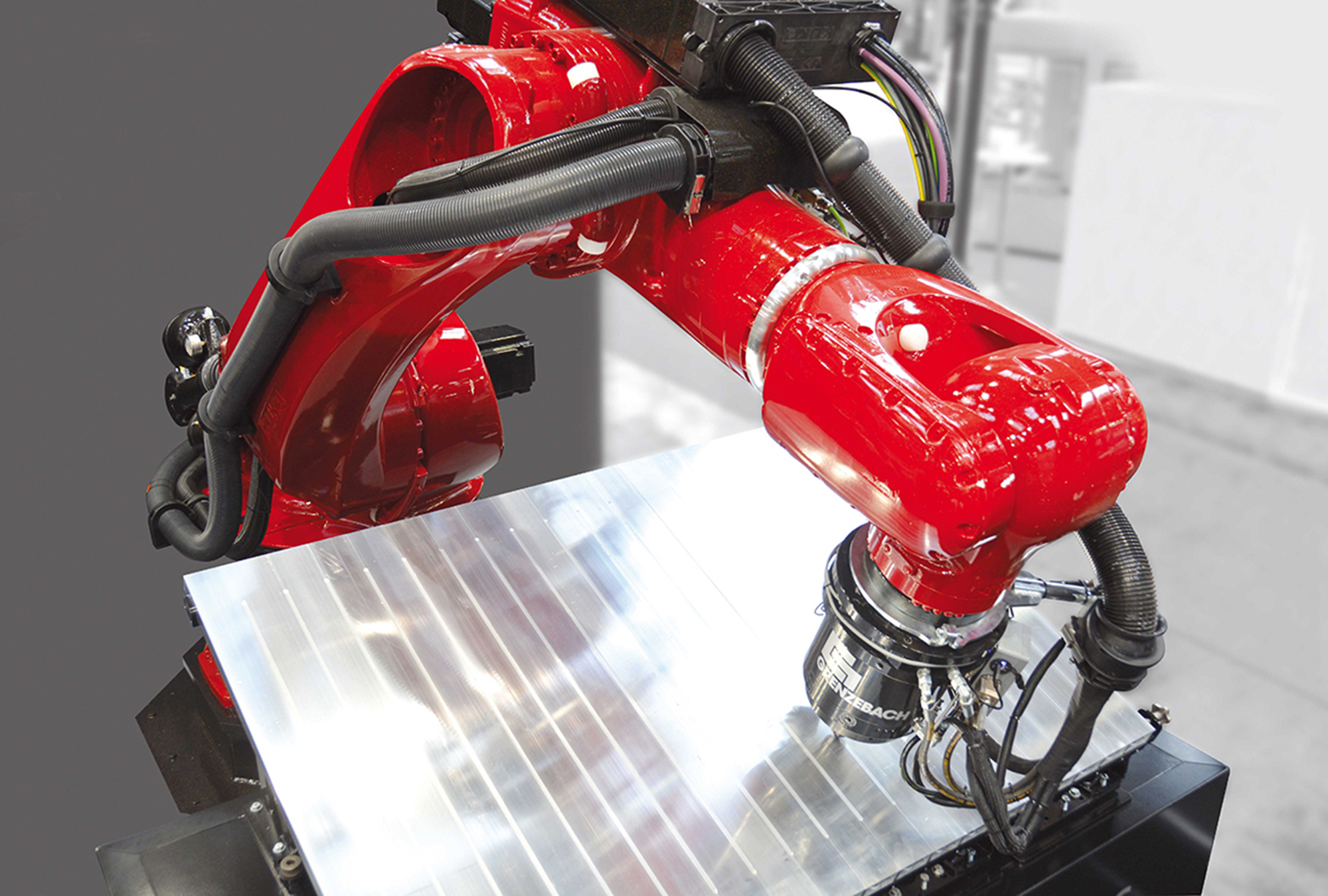 Robotic cells for research, education and industry
R&D FSW Systems
Welding even the thinnest aluminum, or welding a mix of materials with low distortion, media-tight and outstanding surface quality: this is by no means all that friction stir welding can do. Grenzebach's systems are an ideal way for you to discover the future of FSW technology in the course of research and development.
We offer DSR robots (DSR = Dynamic Stirring Robot) in special designs for research facilities. With full functionality and top quality, our R&D facilities offer optimal space and accessibility to all the measuring equipment.
Reliable, complete recording of all process-relevant machine data is a matter of course. The CAD/CAM feature allows maximum flexibility when it comes to changing the test setup or object. In special cases, our technical support provides reliable assistance. We see ourselves not only as a technology expert and robot manufacturer, but also as a discussion partner for all your questions.
Easy to expand and convert
Combine your R&D robot cells the way you want with welding tables, measuring equipment and media feeders. There are no limits to the possibilities for discovery and experimentation. The equipment depends on your questions – your needs.
Flexible use
Discover the possibilities with FSW: which materials and components can be welded? In addition to a wide range of applications in the automotive industry, friction stir welding is also being used increasingly frequently in consumer electronics and the construction industry. For example, FSW robots join formed aluminum sheets for rooftop solar collectors that harness the power of the sun for energy.
Very reliable
FSW cells are designed for 24/7 use. Our robotic systems are highly robust and resilient so they'll always be able to handle new problems.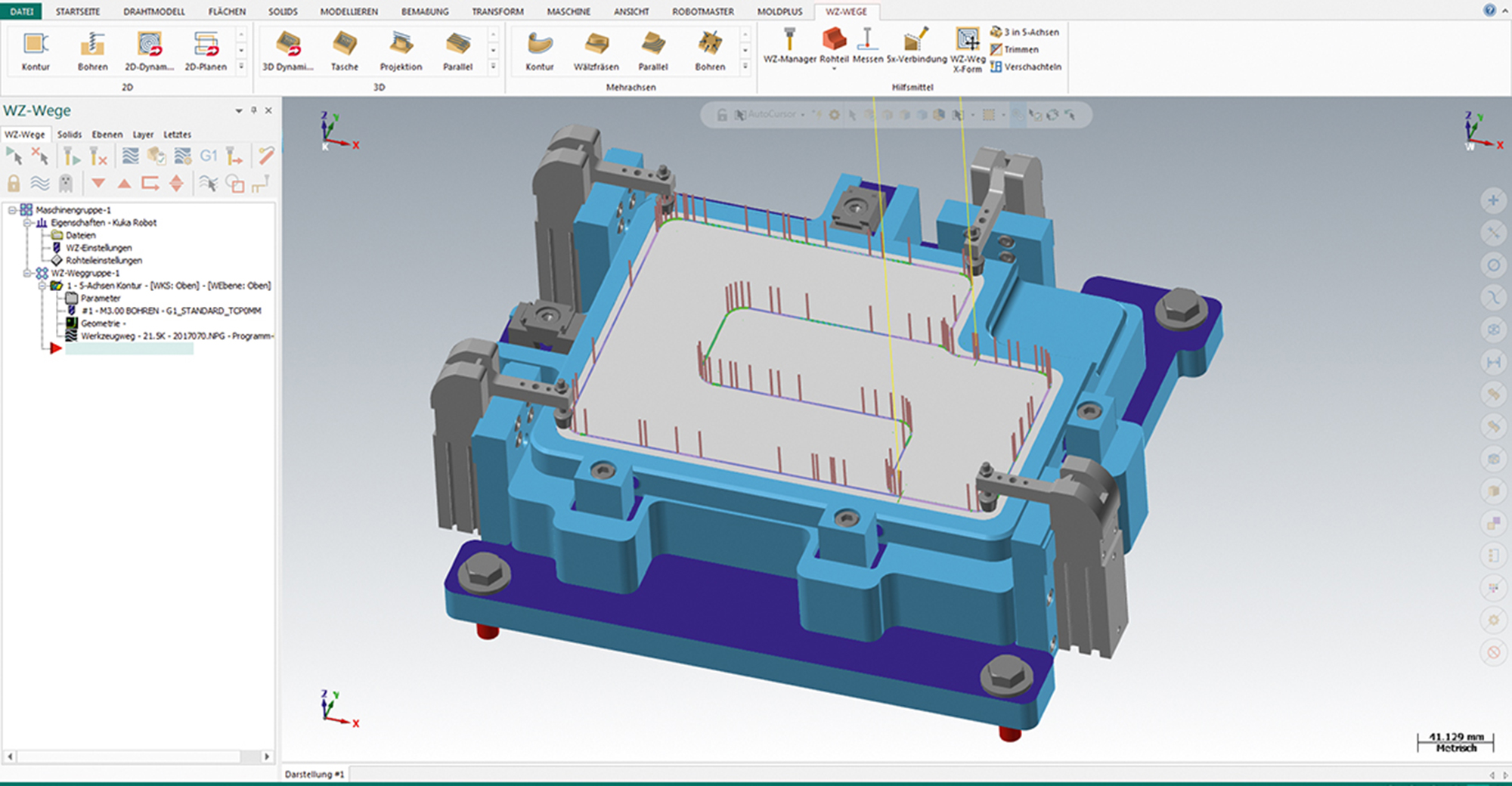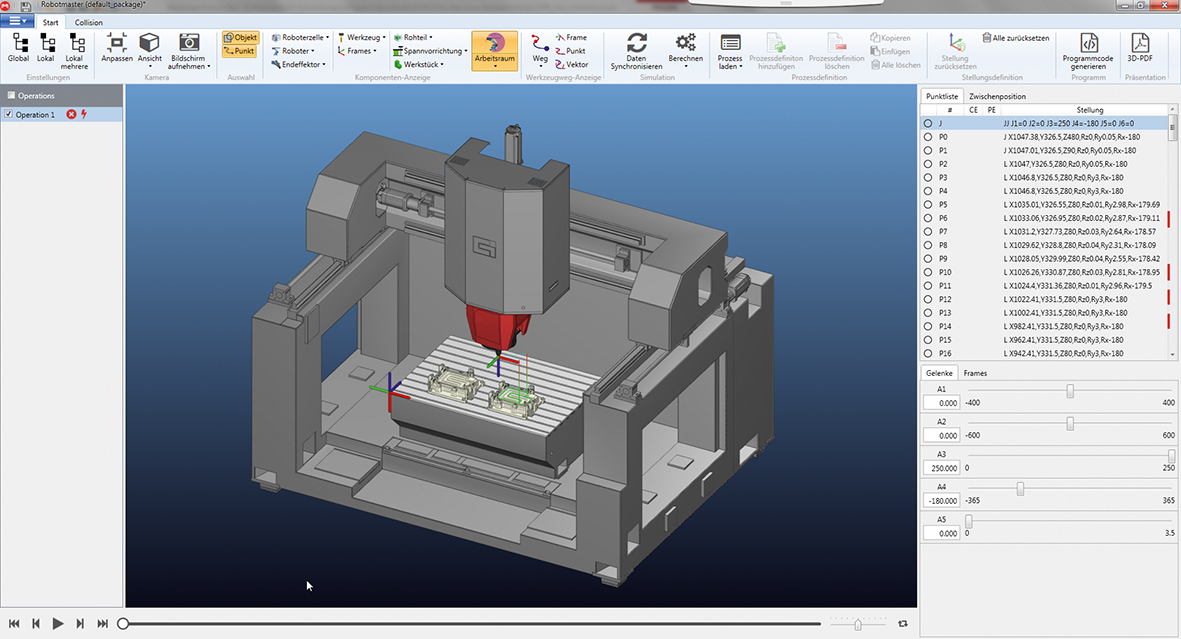 From 3D model to finished welding program in just a few clicks
Professional CAD/CAM
The programming software specially developed for friction stir welding processes makes it easier for users to create welding programs. In addition to the weld path and the FSW process parameters, control over clamping devices can also be programmed in the CAD/CAM environment. Programming is carried out offline on a separate PC so it doesn't slow down the system. The finished welding program can then easily be installed onto the system via a USB or network connection.
Import of 3D models
Geometry selection and path definition in the 3D model
Simple modification options for the path geometry
Definition of FSW process parameters and changes for individual path points and segments
Insertion of action points in the weld path
Collision detection of tools and parts
Reachability check
Possibility of importing different reaming tool geometries
Creation and management of a tool database
Documentation function and traceability of parameter or path changes, for example
More solutions
Friction Stir Welding
For North America
Your contact person: John Fluker
Do you have questions about friction stir welding? Would you like to know whether a new idea can be implemented with FSW? Or do you need support in selecting a system? Please contact us. We'll be happy to advise you!
For all other regions
Your contact person: Sahin Sünger
Do you have questions about friction stir welding? Would you like to know whether a new idea can be implemented with FSW? Or do you need support in selecting a system? Please contact us. We'll be happy to advise you!