Service with value: Grenzebach's Lead Time project enables shorter delivery times for spare parts and smart spare parts logistics
With its Lead Time project, Grenzebach completes the group's After Sales Service offer: In addition to optimized prices from the completed pricing project, customers can now expect higher spare parts availability and shorter delivery times in many areas.
Time is money. As specialist for automation and service, Grenzebach knows that machine standstills and downtimes are synonymous with economic loss in the manufacturing industry. A sustainable supply chain with high spare parts availability as well as short delivery times is crucial for a smooth business operation. Therefore, the Grenzebach service team launched a project in March to implement smart spare part logistics, better availability of global spare parts, and shorter delivery times.
On this project, Grenzebach worked side by side with customers and actively involved them in the process of improvement to meet their requests regarding spare parts availability and delivery times in the long run. For the globally active company, customer feedback is an opportunity. Actively listening and acting in the interest of the customer is elementary for Grenzebach's work as a service partner.
When time is short
A quick glance at the monitor. Joachim Vesely, Service Manager at Grenzebach Hamlar, inspects the safety area of a long-time overseas customer via the SERICY Collaboration App. Together with the customer on-site, he investigates the increased failures in the past weeks. The reason is found quickly: A new safety gate switch is needed. "The defective safety switch has to be replaced as fast as possible or else, they might risk a total failure of the plant area in the long term. This is a critical situation. We have to act fast", Joachim Vesely explains. Without further ado he prepares a quotation for the right spare part. The customer accepts. Just a few clicks later the urgently needed component is ordered and already on its way to the customer. "Thanks to our new Fast-Lane, we can supply and install critically needed spare parts, such as safety switches, within just a few days." The Fast-Lane is just one among many measures implemented by Grenzebach during the last few months to improve the global availability of spare parts and significantly shorten their delivery times.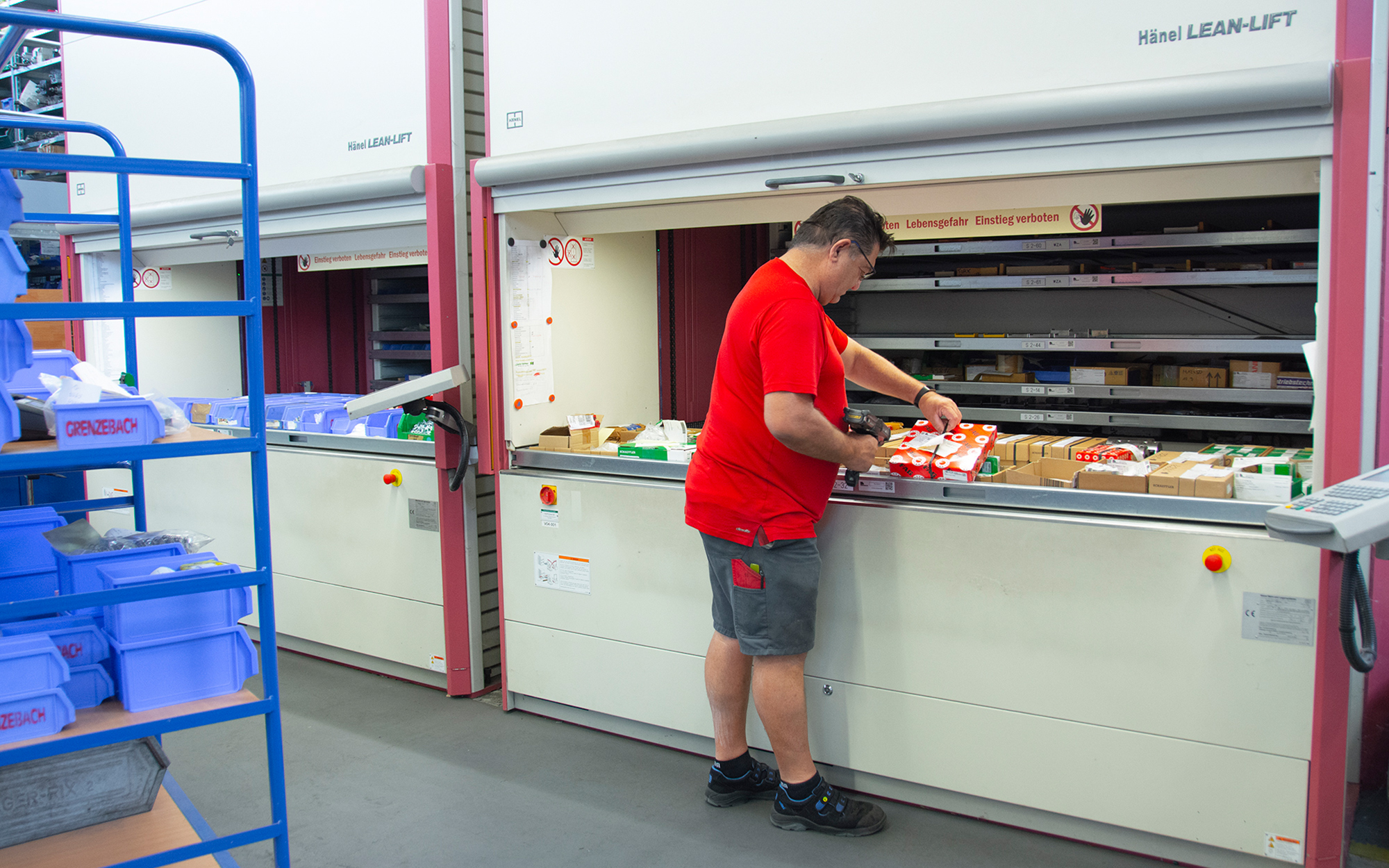 Smart spare part logistics is key
The range of spare parts offered by the Grenzebach Group covers around 16,000 parts. "Intelligent spare part logistics with lean and system-supported processes, clear responsibilities and target times are key to fulfill the individual wishes and requirements of our customers in the long term, especially with this high availability of parts", Wolfgang Eydt, Head of Customer Service Building Materials in Bad Hersfeld, explains. In order to remain competitive and meet customer requirements, one of the first phases of the Lead Time project included classifying a global spare parts range. The future inventory planning of the warehouses will now be carried out depending on the cost, pick rate, criticality and failure probability of the respective spare part.
Joachim Vesely adds: "Classifying the global spare parts inventories was just a first step to reduce the time for procurement sustainably. Numerous other instruments are part of the project, such as delivery agreements or the Fast-Lane." From August 2021 on, the measures are to be implemented across all sites. The benefits of the Fast-Lane are then available to all customers: If they require a spare part that has been classified as particularly system-critical in the future, they will be able to receive it within just a few days via the Fast-Lane.
Our aim: Improving service quality
"We are our customers' partner and want to offer them service with clear added value. Therefore, it's natural that a shorter delivery time should have no influence on the quality of our spare parts. Our aim is rather to improve our service quality in the course of this project."
Grenzebach's customers can only benefit: Significantly shorter delivery times and at the same time improved service quality due to optimized warehousing, leaner processes and increased reliability.
Time is money. Probably one of the most popular sayings in the business world. With their Lead Time project, Grenzebach demonstrates that they are aware of changes on the market, put existing processes to the test, and always keep the needs of their customers in mind. Even after the project has been completed, Grenzebach will join discussions and consultations with customers, partners and suppliers with eyes and ears open - for sustainable service with clear added value throughout the entire lifecycle of a plant.