17-year-old twins Peter and David Kapfer from Wörnitzstein near Donauwörth decided against doing their high school diploma (Abitur) last year and for starting their training as mechatronics engineers at Grenzebach. They are both very happy with this decision and haven't regretted it for a second. "Seeing how much our former classmates have to study right now for their final exams, I'm glad to be here and pursuing my training." David Kapfer says, and his brother agrees with a nod.
Both of them are practical people, in more ways than one. All the theoretical learning at school was just not what they wanted anymore. The COVID-19 measures involving home schooling made things even more difficult and were the decisive factor for the two young people to look for useful alternatives. Their parents were supportive; not wanting to push them to graduate from high school. Their parents certainly saw that the boys were finding it increasingly difficult to perform well at school. They therefore supported their sons in finding a different path. David and Peter had already known Grenzebach from their family background. Their grandfather and uncle already worked here, and considering the boys' interests, there were many good reasons for them to take up an apprenticeship as mechatronics engineers. "Rather than just learning the theory, we'd much rather create something with our hands," Peter says. And so they did: they wrote their applications and started their first year of training as mechatronics engineers in 2021 at Grenzebach.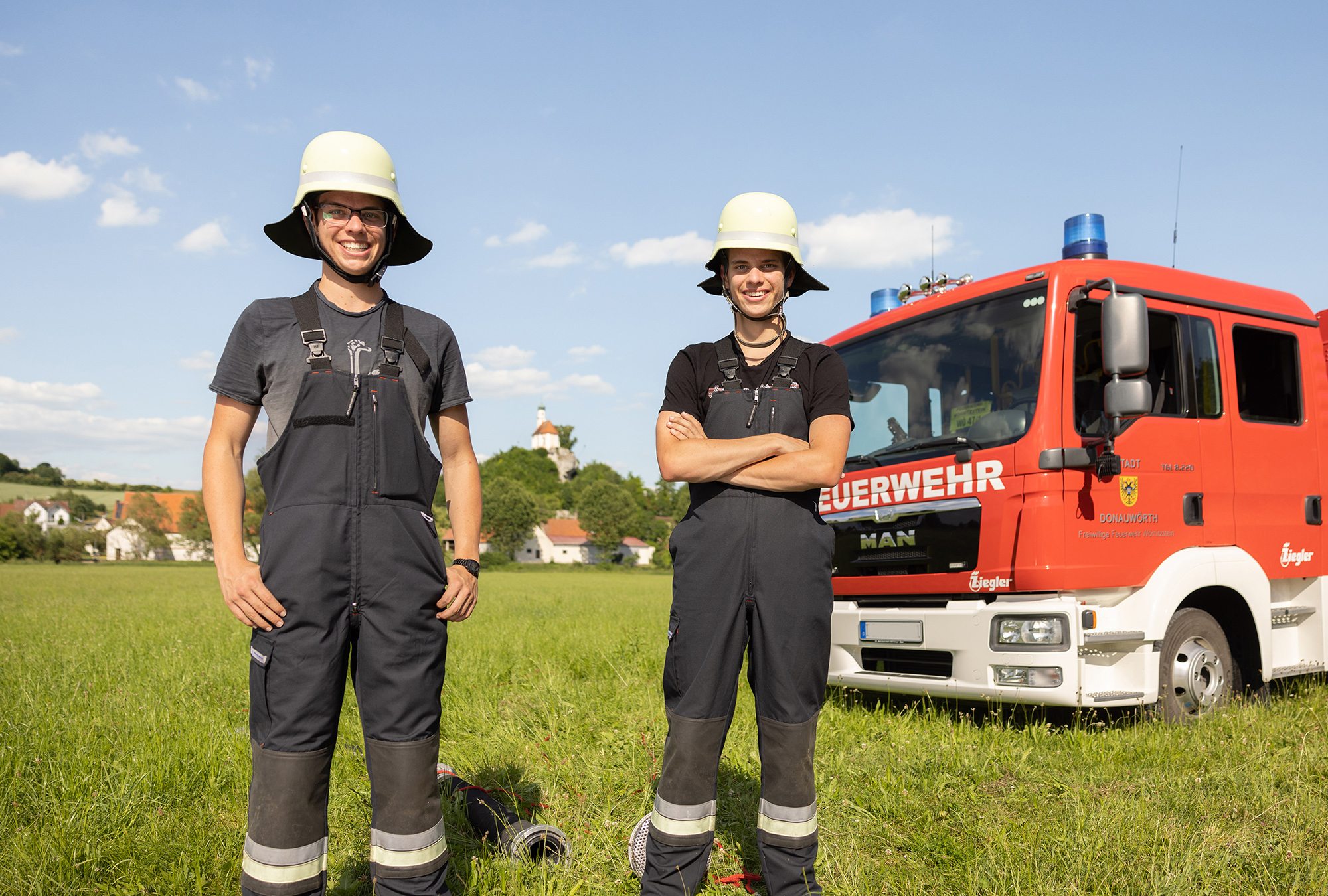 Both: Burning for the fire department
The twins' shared passion is volunteer firefighting. Both have been engaged here regularly since they were 12 years old and also participate in competitions and training courses. They are particularly interested in everything technical: connecting hoses, laying suction lines, connecting hydrants, firefighting equipment, operating pumps, and anything else needed for a rescue operation. From the age of 18, they are allowed to go on missions and complete respiratory protection training. Until then, they want to learn as much as possible, for example, to take their training as troop members. " It is all about responding really quickly as a team. Every move has to be perfect, because in case of an emergency, every second counts", Peter says. That is why these procedures are practiced over and over again. Their team needs one and a half minutes for a certain firefighting setup - which is already pretty good for youth firefighters. At championships, however, the pros manage this in less than 30 seconds. The boys therefore still have a long way to go. David also likes to be in charge here, like in soccer, and can also see himself being a group leader. Peter and David really like working as a team. They can feel the magic when everyone joins in, works together, and thus achieves goals that would not be possible for one person alone.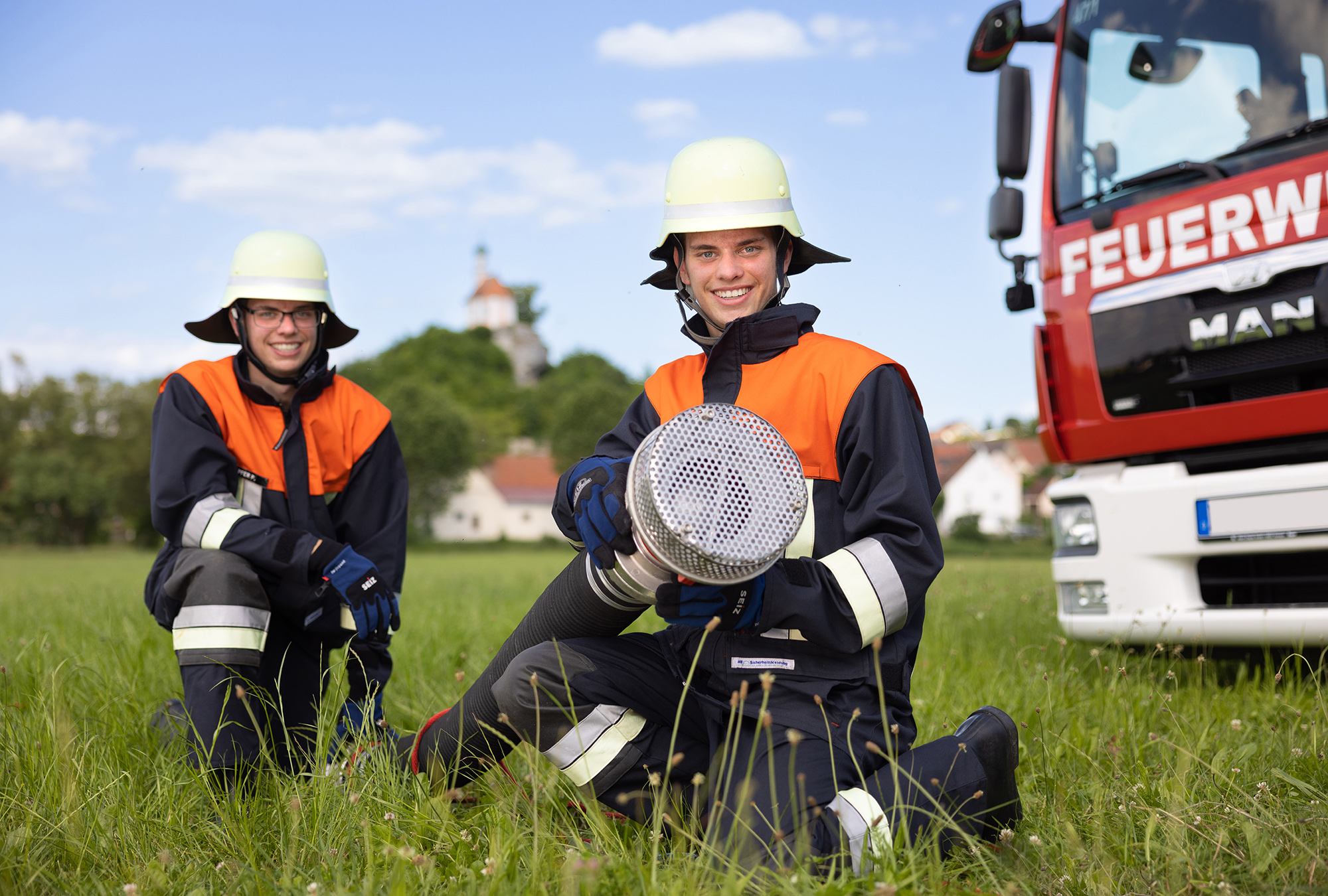 In good hands at Grenzebach
Peter and David also love the team spirit at Grenzebach. Here, all trainees learn together in the training center. They support each other and in this way, not only the individuals but also the company as a whole benefit from a special sense of community.
At the moment, the twins are working on circuits. Cross circuits and impulse circuits are still on the agenda today. Both young men are ideal for such tasks: they can do something with their hands, but they still need to use their brains. What they learn in theory at vocational school, they can then use in practice in the company. They love it because they like to work hard - and with this attitude, they have come to the right place at Grenzebach. They both like working for the company and appreciate their instructors, regardless of the fact that some of them are very strict. In case of their school career: They can still catch up on their high school diploma later if they want to.