Learning. Melanie Grinzinger approaches this topic from many different perspectives. This change of perspective, of seeing and incorporating the needs of others, comes naturally to her. What do newcomers need to become quickly acquainted with the Intralogistics Business Unit at Grenzebach? What information does the controlling department require for the planning of investments? Which figures are relevant for this week's management meeting? Raising questions from different perspectives, researching and preparing the right answers - or arranging a tour of the company premises for new colleagues: Having a variety of contacts and a diverse mix of responsibilities is right up Melanie Grinzinger's sleeve.
Family atmosphere, international exchange

"The people around here help each other, also across departments. I really appreciate this family atmosphere", says the 39-year old. She works as assistant to the head of the Intralogistics Business Unit. The range of her responsibilities includes preparing figures in cooperation with the controlling department, scheduling customer appointments, and coordinating projects with the intralogistics team in Newnan, Georgia.
Growing by learning

Learning. After Melanie Grinzinger began her career at Grenzebach in 2008, as an assistant to the then Chief Financial Officer (CFO) and Head of Sales, she put a lot of energy into further education and training. "During my training as an industrial business management assistant in the company where I did my training, there was no international communication and so my English was a bit rusty. At Grenzebach, I had contact with colleagues from India and the U.S. from the very start. It was an ideal combination of learning by doing and my English course at the IHK." During this time, she also passed the IHK examination to become a foreign language correspondent.
Her next step was a distance study in business administration at the Haufe Akademie to dive even deeper into the world of unique selling proposition (USP), sales and corporate taxes. "The training courses gave me a whole new approach to my professional environment and have of course been great for my personal development." In addition to the finer points of grammar and profit calculation, she got to know many different people during the courses and many different characters, which was enriching for her personal interactions in both her professional and private life.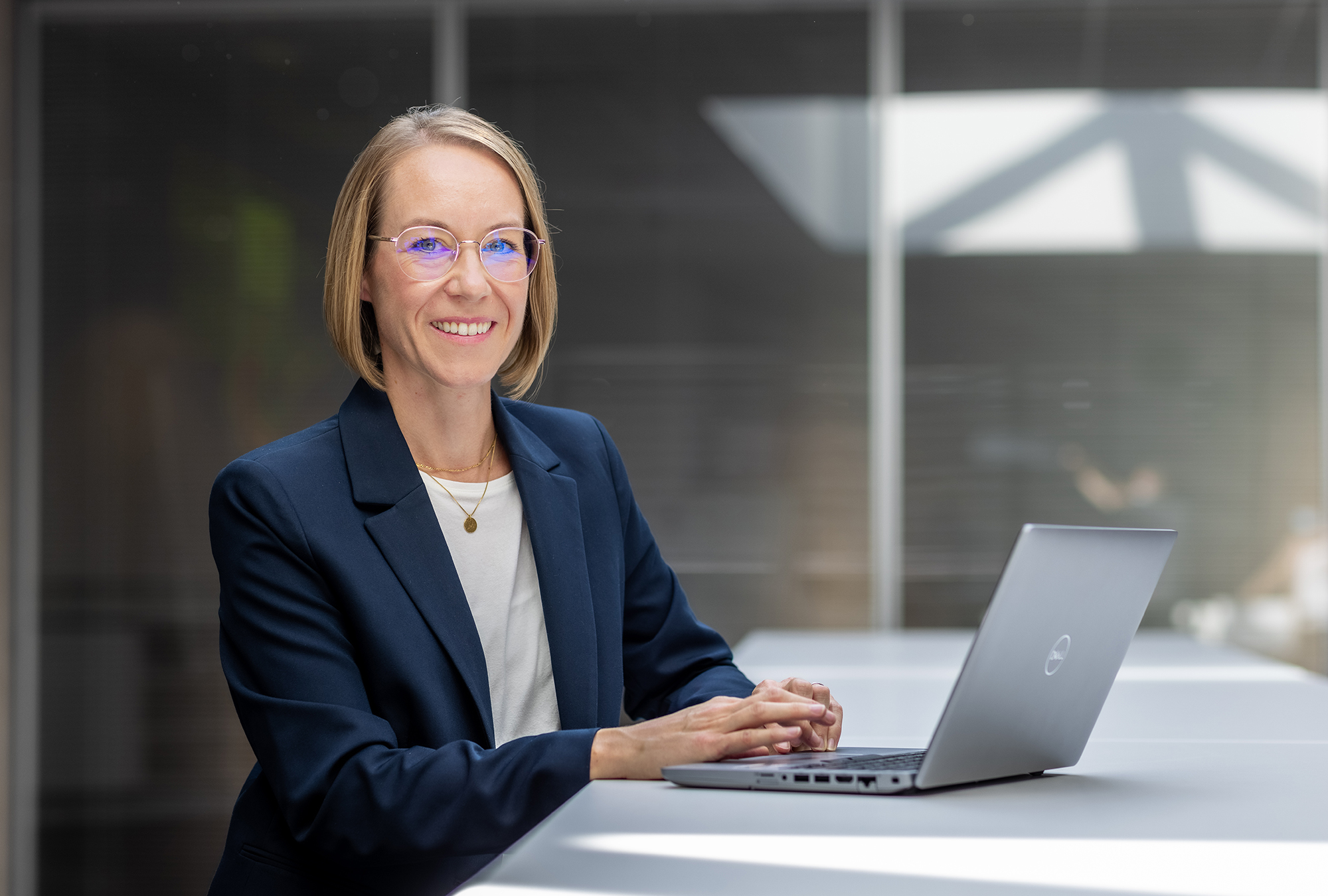 After Melanie Grinzinger had been working for Grenzebach for seven years, her first son was born. She took a one and a half year break for her family. Afterwards, she came back to Grenzebach to work part-time as an assistant in the glass business unit. She enjoyed the combination of sales, customer contacts and trade fairs. She really liked getting to know contacts she already knew from intensive mail exchanges in person at glasstec, the world's largest industry trade show. In 2018, her second son was born and in the early summer of 2021, Melanie Grinzinger returned to work part-time in the intralogistics business unit.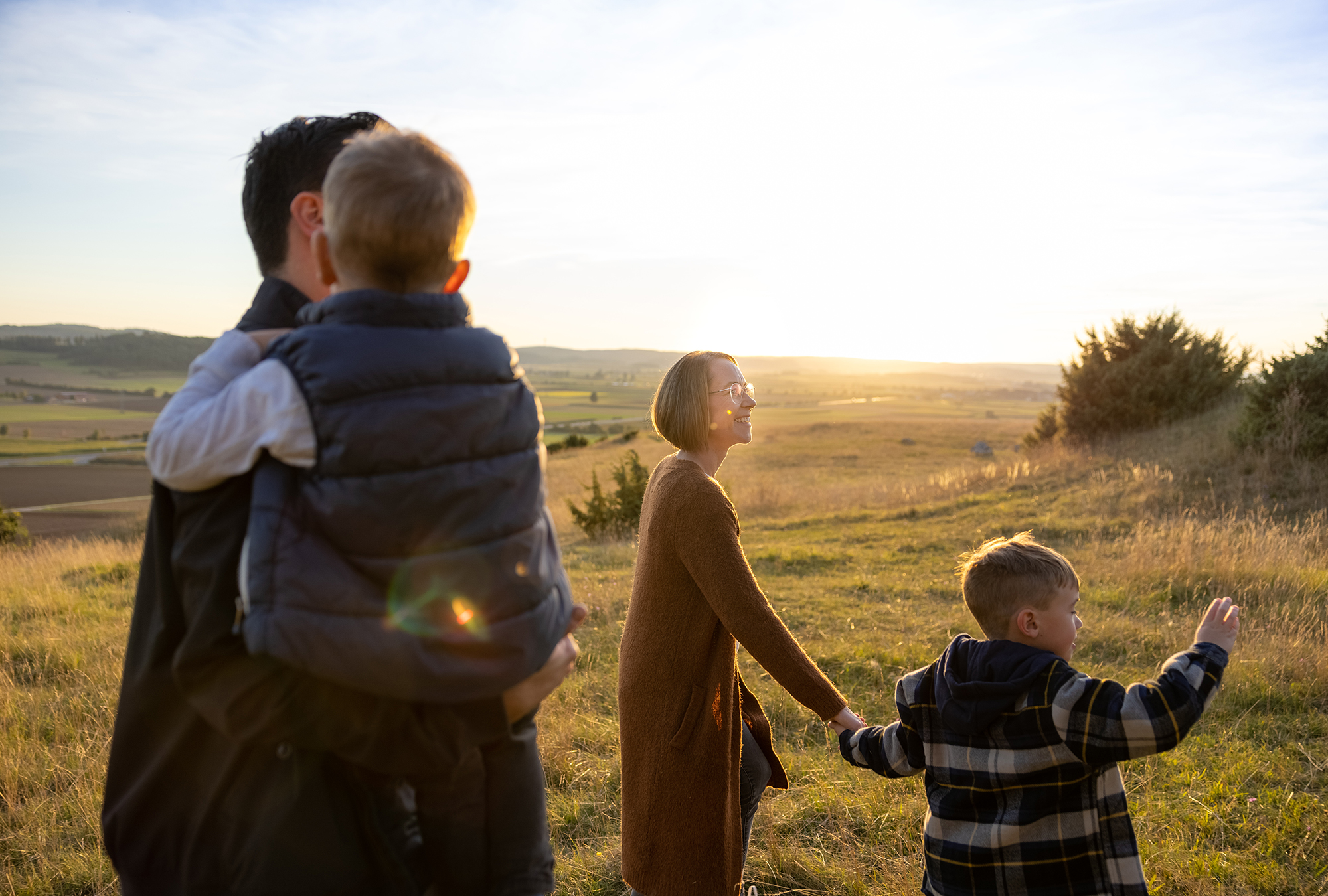 "Donau-Ries has a lot to offer for families: From the fairy tale trail around the castle in Harburg up to the climbing forest in Scherneck. Our two sons are attending the forest kindergarten. We often make excursions to Donauwörth, Nördlingen, Eichstätt or Augsburg."
Outdoors in Donau-Ries

Learning. It is important for Melanie Grinzinger that her two children learn through play and also discover nature. Therefore, her sons attend the forest kindergarten in Rain am Lech. Melanie Grinzinger is a member of the parents' council and helps organize events such as the action day, where the whole family joins in, makes repairs, builds new wooden toys, and so on. Together with her husband Michael and their sons, Melanie Grinzinger also spends as much time as possible outdoors. The family loves living in their house in Rain at the Lech and often go for a hike, boating or swimming in Donau-Ries. They make trips to the climbing forest in Scherneck as well as the fairy tale trail in Harburg. "Spending time together in the fresh air and doing things is a joy in itself. It also clears the mind for fresh ideas and energy in the home office and in the office", says Melanie Grinzinger.
Yoga with Youtube

A contrast program and a change of perspective in one: If her time allows it, Melanie Grinzinger starts her day with doing yoga, guided by Youtube videos. "I like the flowing movements of yoga and enjoy being able to really focus on my breathing at least once a day."