"365 Days Grenzebach World" – a dynamic experience
365 days of experiences. 365 days of innovation. 365 days of Grenzebach.
The "365 Days Grenzebach World" aims to make technology tangible and offers an exciting experience to all those interested. The design of this all-year showroom is both dynamic and vital and will continually be growing and developing. Guests can look forward to different exhibits and innovations from all the business segments.
The name says it all: In the future, the experience center will be open throughout the year, on-site and digitally. Virtual and real tours on-site, changing Grenzebach exhibits and use cases, as well as accompanying online seminars will all make up the "365 Days Grenzebach World".
"With the Grenzebach World, we have created an interactive place of meeting, learning and exchange where our customers, suppliers, partners and employees can get involved and actively help to shape and develop the showroom."
All Grenzebach technologies combined under a single roof.
All Grenzebach technologies combined under a single roof.
The Innovation Center in Hamlar provides a space for this dynamic and vibrant experience world and brings together all the Grenzebach technologies under one roof. The exhibits originate from real customer cases and research projects, feature innovative prototypes and combine solutions from all Grenzebach business segments. The "365 Days Grenzebach World" will be growing and changing all the time.
Start looking forward to your visit today – you are will learn something new every time!
Automation solutions from Grenzebach
Additive manufacturing
Grenzebach automates and networks additive manufacturing for metal and plastic parts and, with its intelligent hard- and software, ensures efficient utilization of the 3D printing equipment used, a safe and ergonomic working environment and an optimized production flow.
The additive manufacturing exhibit comes from our POLYLINE research project. The project integrates additive manufacturing processes for plastic parts in conventional series production.
A new welding dimension
Friction stir welding
Friction stir welding (FSW) heat renders the material malleable. A rotating tool stirs the material at the seam and creates a weld seam that is mechanically highly resilient and extremely strong. The FSW machine DSM 1400 represents the field of friction stir welding in our "365 Days Grenzebach World". With this gantry machine, we can develop your individual welding process and also produce prototypes for you.
Holistic casting processing from a single source
Castings
Customers value the combined casting and friction stir welding expertise from Grenzebach. In addition to our FSW machine, you will therefore find numerous castings that we have already manufactured and delivered for international customers in the mechanical engineering sector. We will take you on a digital journey to our site in Jiashan, where we can take care of all tasks related to the machining, finishing and post-processing of your casting in our purpose-built Casting Center. As a full-service provider, we offer you the complete supply chain from a single source.
The fascination of glass right down the line
Glass
Grenzebach and CNUD EFCO GFT have been fascinated by glass for over 50 years. As technology innovators, more than 300 plants around the world rely on our in-depth expertise and technologies to add value to the international glass industry. While glass is made up of just four components – sand, lime, dolomite and soda ash – it requires specialized equipment for production, processing and transportation. Guests at the "Grenzebach World" are invited to take a look at the various key machines from the hot and cold end of a float glass plant. New versions of the dross box and the cooling channel form the start of a mainline upon completion of development. Various inspection systems, cutting and marking bridges, and stacking areas of a sideline represent the cold end.
Keeping materials in flow with automated guided systems
Intralogistics
An optimized material flow increases productivity and reliability for trade and production companies. The automation of logistics processes with automated guided vehicles (AGV) boosts competitiveness. All the intralogistics solutions from Grenzebach are based on a uniform approach and comprise hard- and software as well as service from a single source. Our intralogistics exhibits show how individual workstations can be intelligently combined. AGVs of type L1200S network all the exhibits. In addition, guests can experience first-hand our goods-to-person solution with a pick gate.
The digitalization solution for the production of tomorrow
SERICY
The modular IIoT platform SERICY allows customers to digitalize their production and supply chain within a very short space of time without having to disclose valuable company knowledge to external providers: Easy. Open. Secure. SERICY is tailored to meet the requirements of mechanical engineers and manufacturing companies from medium-sized businesses.
All areas of the "365 Days Grenzebach World" are linked and digitally managed across the board with our SERICY platform and the corresponding apps. Experience SERICY for yourself!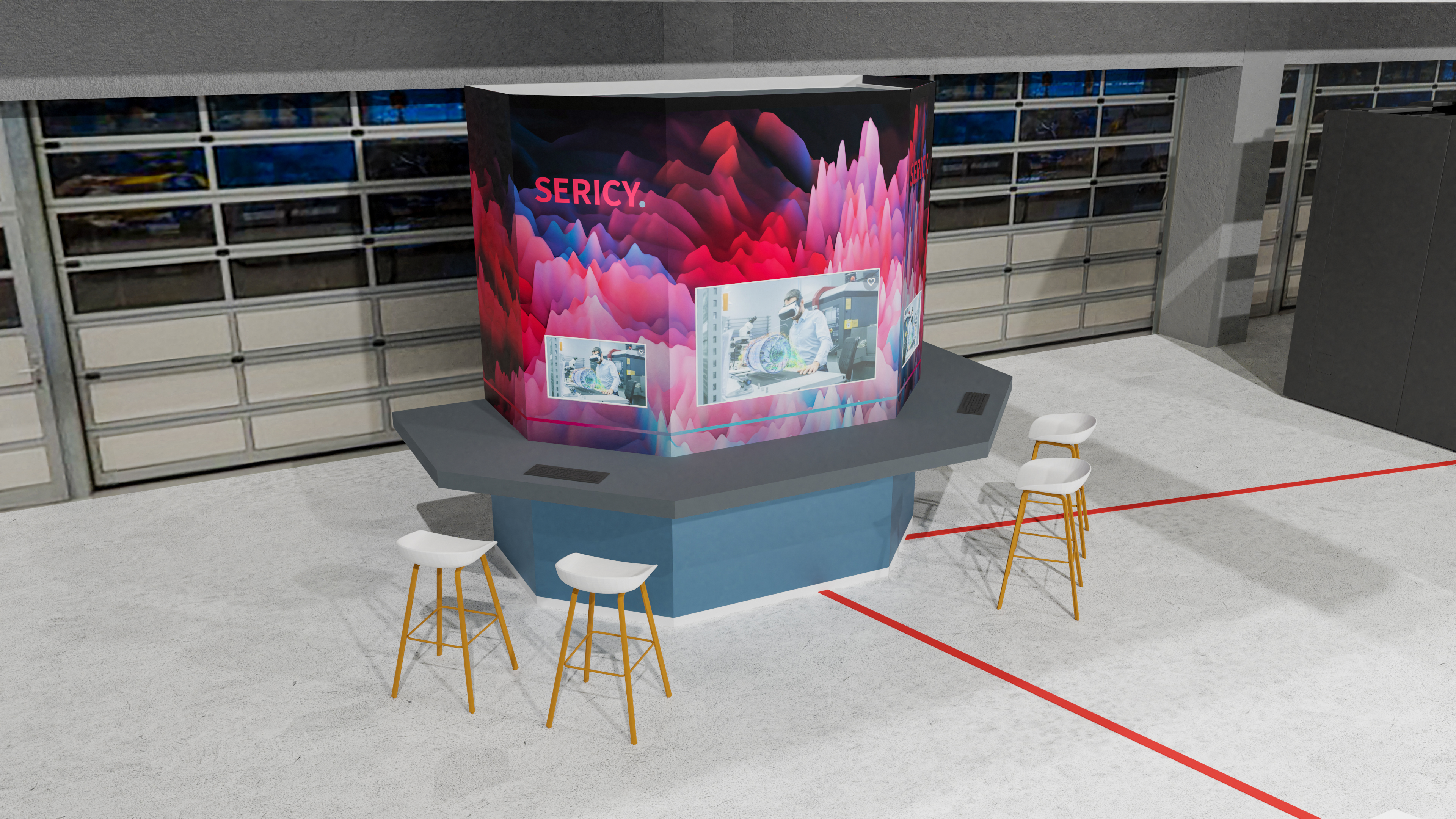 Arrange your personal appointment for the "365 Days Grenzebach World".
Arrange an appointment
You like to get to know our dynamic showroom and delve into this experience world during an exclusive appointment either digitally or on-site?
Then get in touch and arrange an appointment with your desired date. We contact you as soon as possible to discuss the details of your appointment.
We look forward to welcoming you!